Gluten Free Classic Polenta: Creamy, Grilled, or Fried
Polenta is one of those gluten free flexible and versatile dishes that can be prepared in any number of ways. For example, it can be made with water, milk, chicken stock, or vegetable broth depending on family traditions and personal preferences. Plus, it can be further customized by adding grated Parmesan cheese, butter, and/or any combination of fresh herbs and spices.
Some traditionalists argue that water is the only acceptable choice for making polenta because it yields the lightest, most distinctively corn flavor. On the other hand, some argue that chicken or vegetable stock infuses the polenta with more flavor, while others prefer the richer and creamier taste associated with using milk or half & half.
This recipe serves as a blank canvas to build upon. From there, it can be customized to suit your own tastes. As is, this version is delicious as a hot and filling side dish or it can be chilled and then grilled or fried for a tasty treat later.
Prep time: 5 minutes
Cook time: 45-50 minutes
Serves: 6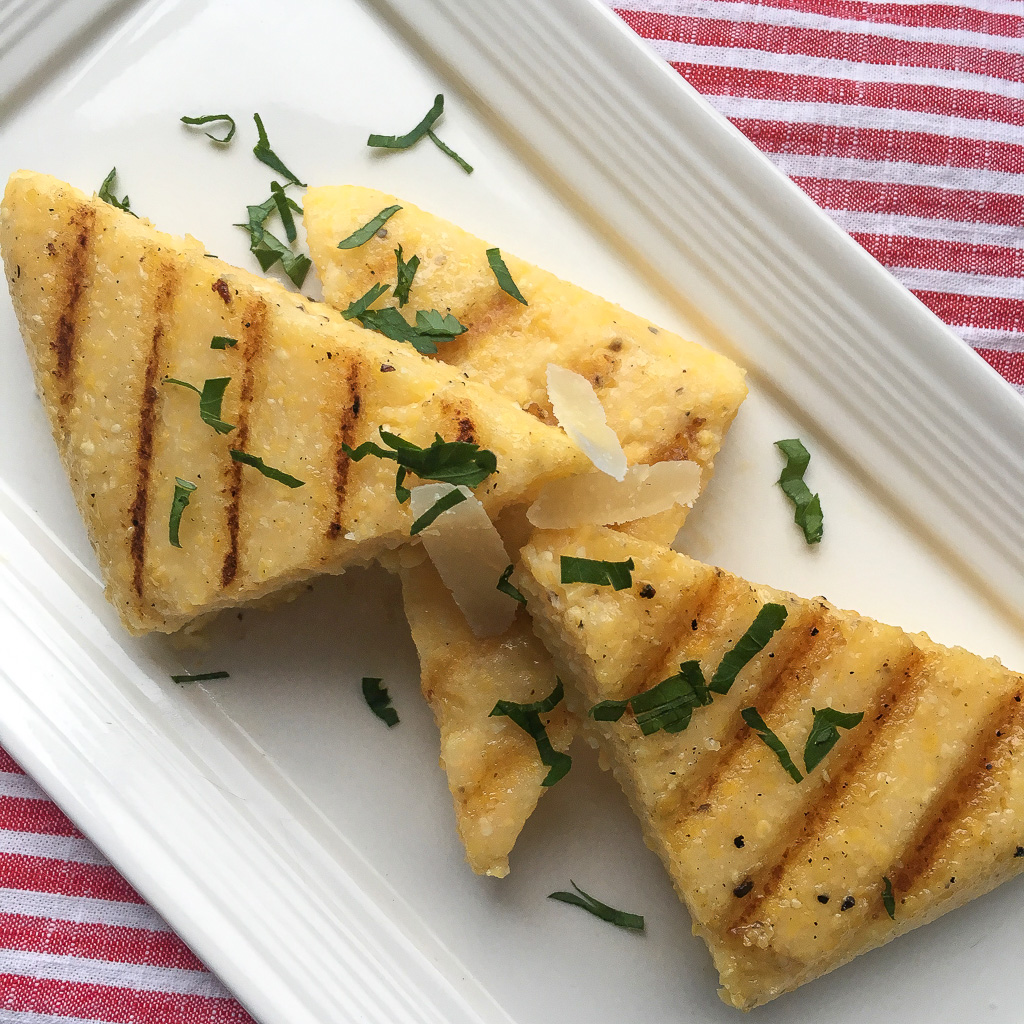 Ingredients:
5 c. water
1 c. medium or coarse polenta or cornmeal
Sea salt, to taste
(Optional) 2 T. unsalted butter
Directions:
Heat water in a large saucepan over medium-high heat until almost boiling. Once water starts to bubble, whisk in cornmeal and continue stirring continually until it starts to thicken. Season with salt, to taste, and stir to combine.
Reduce heat to just below medium and continue cooking, stirring every 4-5 minutes, until the polenta pulls away from the side of the pan and the cornmeal becomes soft and tender, approximately 40-45 minutes.
Remove from heat and stir in butter, if using. Taste and add more salt, if desired. Serve creamy polenta immediately as a side dish or top with your favorite savory main dish, such as Succulent Braised Pork Roast or Tuscan Meat Ragu.
To Fry Polenta:
Grease an 8" x 8" glass baking dish with olive oil (or spray with a non-stick cooking spray). Spread prepared creamy polenta into baking dish in an even layer. Cover and refrigerate until polenta is firm to the touch.
Remove from refrigerator and gently loosen around the edges of the baking dish with a butter knife. Place a paper towel over the top of the polenta and hold it in place with your hand. Gently turn the baking dish upside down while supporting the contents with your hand. Tap the bottom of the baking dish until polenta is released.
Carefully transfer the solid sheet of polenta to a cutting board. Cut the polenta into quarters, then cut each quarter in half diagonally to create 8 wedges.
To fry, add a little olive oil to a large, non-stick skillet over medium-high heat. Add the polenta wedges and cook until golden brown on each side, approximately 1-2 minutes per side. Remove from heat and serve immediately with your favorite toppings or marinara sauce to dip.
To Grill Polenta:
Repeat steps 1 – 3 above.
To grill, spray a grill pan or the grates of a gas grill with non-stick cooking spray. (Clean the gas grill grates with a stiff wire brush before spraying).
Heat grill pan over medium heat or pre-heat gas grill to medium. Carefully brush both sides of each polenta wedge with a little olive oil before placing on the hot surface.
Cook until each wedge is golden brown and nice grill marks appear. Flip and repeat on other side. Remove grilled wedges from heat and serve immediately with your favorite toppings, in salads, or with a bowl of hot soup.
Enjoy!
Kathy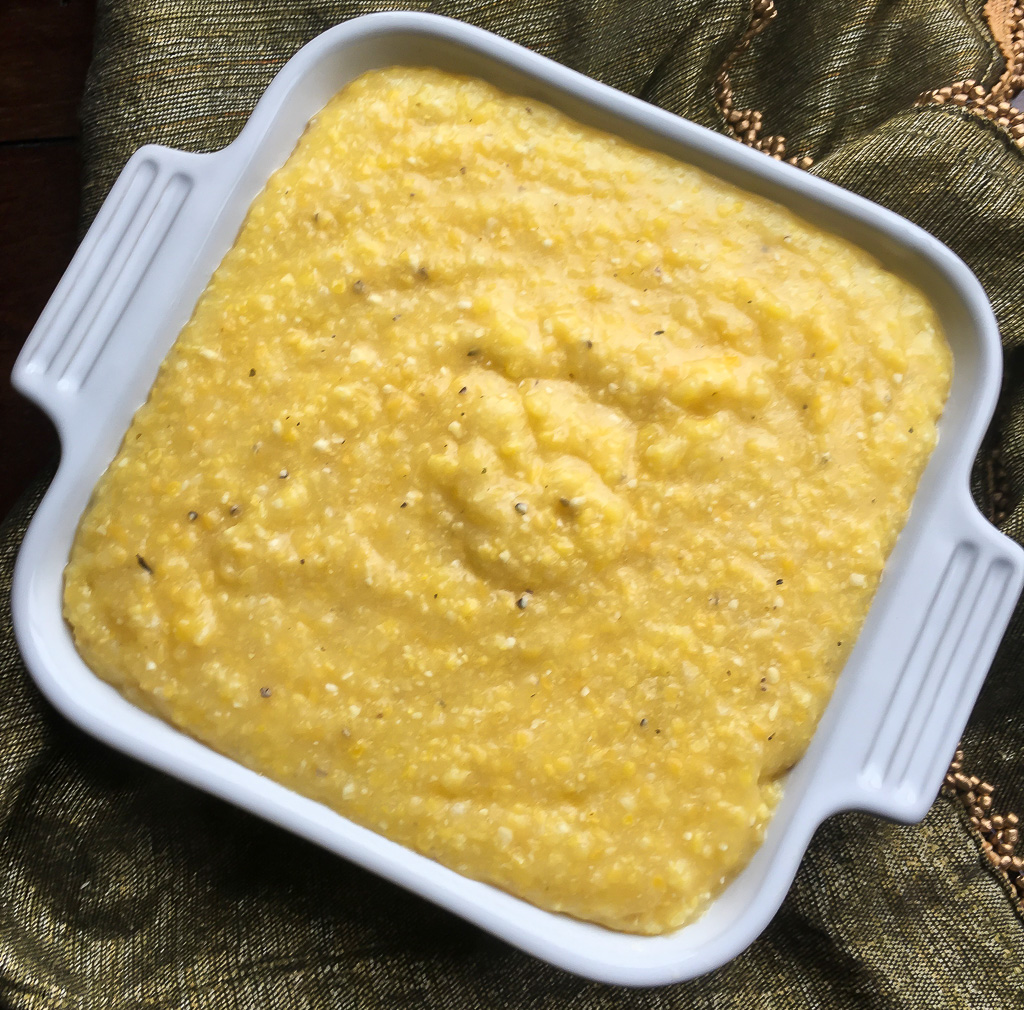 If you click on any of the links associated with this blog we will receive a small stipend! Thank you for keeping me blogging!!
For the same saucepan I used in this recipe click on the link. Its the All-Clad 4 Quart Saucepan. It is a little on the expensive side but completely worth it if you enjoy cooking as much as I do. In the past I used to buy cheaper pots and pans but over time I've had to throw them out because either they warp or the non stick coating comes off among other things. I have had great success with the All-Clad cookware a definitely recommend them to my friends and family!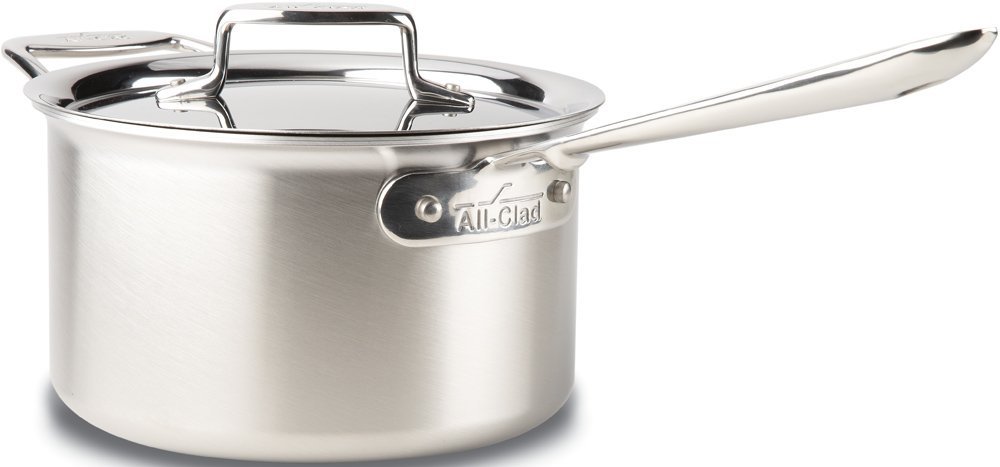 I used my Le Creuset 8″ x 8″ baking dish to achieve the shape and thickness of the polenta so I could cut it into triangles. The reason I love Le Creuset stoneware so much is that it bakes evenly and things don't stick to them everything I have made in these has turned out perfectly golden every time! I have ones in all different shapes and sizes and hands down some of the best cookware I have. They can run a little expensive so if your on a budget try to get some that are versatile for many things. For the 8″ x 8″ Square dish click on the link and it will pop you over to where you can get one for yourself!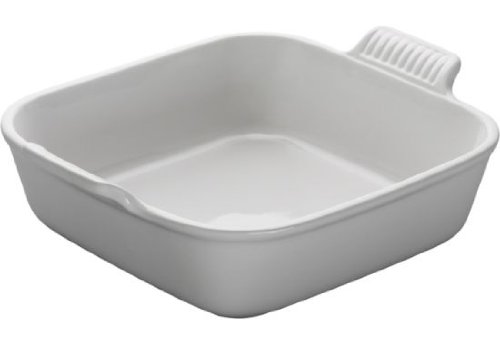 To fry the polenta I used the All-Clad Skillet. I have their whole line of products and over the years I have purchased nearly every size skillet and saucepan. These are pans that will last a long time and they have yet to fail me. Click on the link or picture and snag this skillet for your kitchen you will not be disappointed!

Once again, to grill the polenta I used the All-Clad Grilling Pan. As mentioned above I have almost every type of All-Clad cookware. When it came time to grill the polenta for this recipe I decided it would just be easier to pull out the grill pan verse brave the heat and grill outside. This grill pan is hands down the best one I have ever used and nothing sticks to it! Click on the link and try it out!