Gluten Free Instant Pot Chicken Florentine Soup
This light and flavorful gluten free soup is inspired by classic Chicken Florentine recipes, but it has some unique elements of its own. For example, pureed white beans and a chunk of Parmesan rind add to its creaminess, while a bit of baby arugula introduces an interesting note to the overall flavor profile. The result is a delicious combination you'll want to make again and again.
For a bit more flavor, you can use economical boneless, skinless chicken thighs instead of the chicken breasts, but be sure to trim and remove any excess fat first.
Tip: To save time on busy weeknights, soak the sundried tomatoes in advance.
Prep time: 10 minutes
Cook time: 20 minutes + time to come to pressure
Serves: 4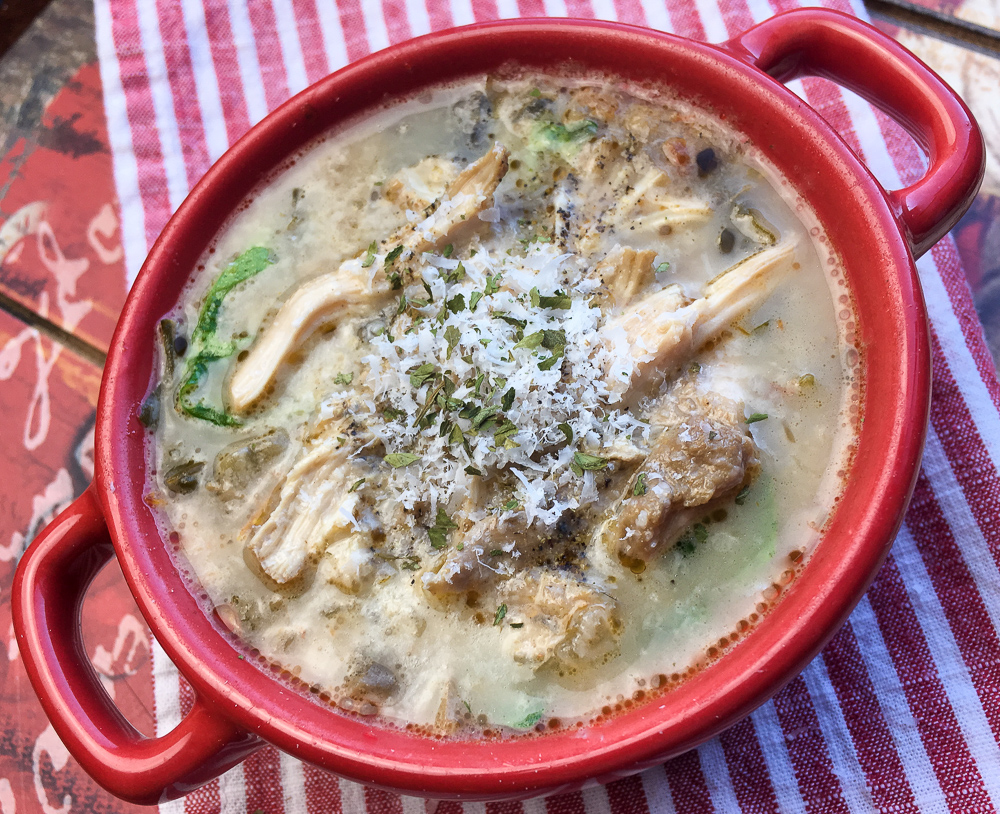 Ingredients:
½ c. sundried tomatoes (not packed in oil)
2 c. water
2 15-oz. cans cannellini beans
1/3 c. heavy cream
2 T. extra virgin olive oil
1 small red onion, chopped small
3-4 cloves garlic, chopped
4 c. chicken broth (check labels)
8 oz. white mushrooms, cleaned and sliced
4" Parmesan cheese rind
2 t. Italian seasoning (check labels)
1½ lbs. boneless, skinless chicken breasts
Sea salt and black pepper, to taste
1 c. baby spinach
1 c. baby arugula
½ c. freshly grated Parmesan cheese, plus additional for serving
Directions:
Place the sundried tomatoes in 2 cups water and set aside. Let soak until softened, approximately 30 minutes, then chop into small pieces. Reserve the soaking liquid and set aside.
Rinse and drain one can of cannellini beans, and puree the other with its liquid in a blender or food processor. Set aside.
Remove heavy cream from the refrigerator and set aside at room temperature until the soup is done cooking. (This will prevent it from curdling when added to the hot soup later).
Add olive oil to Instant Pot and press the "Sauté" button. Set the heat setting to high and add the onion and garlic. Cook, stirring occasionally, until the onion is soft and translucent, approximately 4-5 minutes.
Add chicken broth and scrape any brown bits off the bottom of the container, then add the chopped sundried tomatoes and soaking liquid, the whole and pureed white beans, mushrooms, cheese rind, and Italian seasoning. Season with salt and black pepper, to taste, and stir to combine.
Submerge the chicken breasts in the liquid and add lid. Securely lock into position and set the pressure value to the "Sealing" position.
Press the "Manual" button and adjust heat setting to high. Then, adjust the cook time to 10 minutes. After a brief pause, the Instant Pot will automatically start building pressure.
When cook time is complete, allow pressure to release naturally for 10 minutes, then flip the pressure value to "Venting" to release any remaining steam.
Carefully open lid and add spinach, arugula, heavy cream, and grated Parmesan cheese. Stir until the greens are wilted and the cheese is completely melted. Taste and adjust seasonings as desired.
Serve immediately with additional grated Parmesan cheese, if desired.
Enjoy!
Kathy
If you click on any of the links associated with this blog we will receive a small commission! Thank you for supporting my cooking passion!!
For easy week night meals try out the Instant Pot. This recipe turned out so yummy and left my kitchen smelling fantastic! There are so many options with the Instant Pot that I'm surprised everyone hasn't tried it. Best part is most of the time the recipes are all one pot meals which if your like me and love to cook but hate doing dishes then you have to try this thing out for yourself! Click on the link and purchase one for yourself you will not regret it!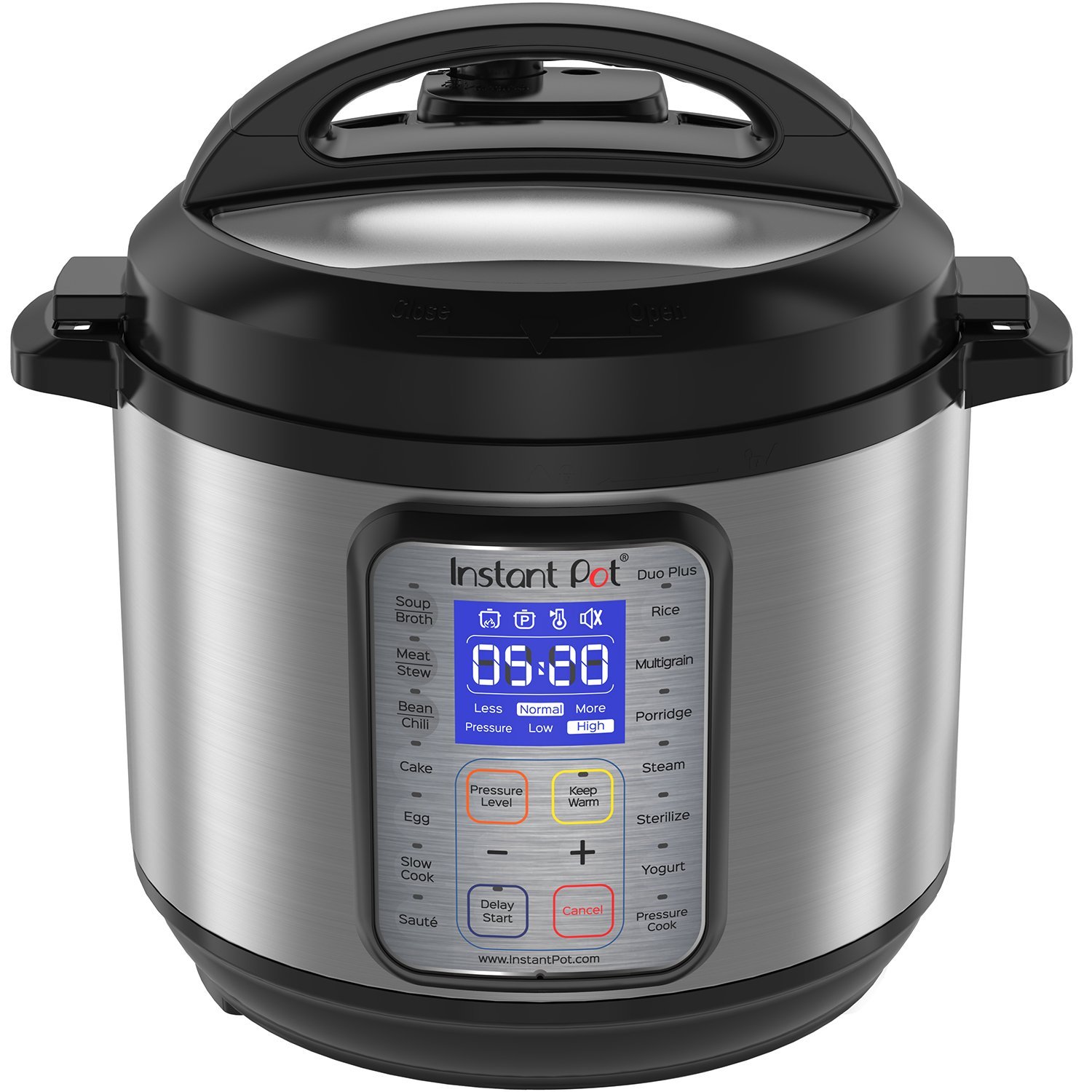 With cooking being my passion I like to try out every new kitchen gadget out there. When it comes to Food Processors I really like my Cuisinart Food Processor. What I like about it is its large enough for big projects like shredding cheese or tons of veggies from my garden, while also great for small projects too! It fits perfectly in my bottom cabinet while other ones I've tried are to tall and have to clutter up my counter top. With there being no ridges on the inside of the cup it cleans up nicely leaving no trace behind. If you don't have one yet or yours is getting a little old click on the link and get yourself this handy kitchen tool!