Cute little bundt cakes that would be an awesome ending to dinner or a fun tea with your best friend. Make extras and freeze some for later.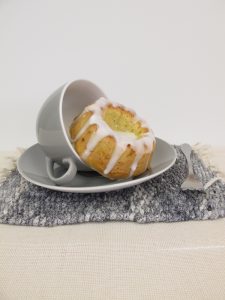 Lemon Poppy Seed Cake
Ingredients: 
¼ cup sorghum flour
4 Tbsp. tapioca flour
½ tsp. xanthan gum
1 tsp. baking powder (I like Rumford's aluminum free)
¼ tsp. baking soda
1/8 tsp. salt
2 Tbsp. poppy seeds
1 large egg white
¼ cup granulated sugar
1 tsp. grated lemon zest
1 large egg yolk
¼ cup sour cream or plain greek yogurt
1 Tbsp. oil
1 Tbsp. lemon juice
Lemon glaze (recipe follows)
Directions: 
Preheat the oven to 325 degrees. Lightly grease two 4" mini bundt pans and set aside.
In a medium bowl, whisk together the flours, xanthan gum, baking powder, baking soda, salt and poppy seeds. Set aside.
In a small bowl, beat the egg white with an electric hand held mixer until stiff peaks form. Be careful not to over beat. Stiff peaks are when you pull the beater straight up out of the egg white and the little peak at the end of the beater stays up straight and does not fall over.
Here's a video from The Culinary Institue of America. Now, they use a regular wire whisk, but you can still use an electric mixer. They also show you how to fold in the beaten white into your batter. Pretty sweet.
Set aside.
In a large bowl add the following: ¼ cup sugar, lemon zest, egg yolk, sour cream, oil and lemon juice. Beat with a hand held mixer until combined. Beat in the dry ingredients slowly so you don't get a flour snow storm. Fold in the beaten egg white.
Pour the batter evenly into the 2 pans, spreading the batter evenly over the top.
Bake for 20 to 23 minutes or until a toothpick inserted into the center comes out clean. Remove from the oven and cool for 5 minutes. Then remove to a wire rack to cool completely.
Make the citrus glaze and pour over the top of the cakes. Then serve.
You can freeze these for up to 6 months, without the glaze. I let mine cool completely and place in the freezer for 10 minutes to firm up. Then I cover with "press n seal" wrap and then place in a freezer zip type bag to freeze. Make sure to label the bag.
You can double this recipe and make 4 cakes at once. Then you can wrap and freeze two for later without a lot of extra effort.
These cakes are really good with diced strawberries sprinkled on top.
Lemon Glaze
Ingredients:
½ cup powdered sugar
1 Tbsp. lemon juice
Place the powdered sugar in a small bowl. Slowly stir in the lemon juice until it becomes a pourable glaze.
You may not need all the juice. If it seems too tart for you, add a little more powdered sugar.
Makes 2 awesome cakes!
Enjoy…..
Kathy
Thanks for coming to my blog. If you click on the links on this blog I will receive a sall stipend. Thanks so much! I really appreciate it.
Adapted from "the Gluten Free Baking Book"
You can buy it on Amazon: Grab the link: GF Baking Book