Slow Cooker Gluten Free Beef Broccoli
This tasty beef broccoli recipe can be pulled together quickly for a fast and easy gluten free weeknight meal. To avoid mushy vegetables, don't add them until 15 to 20 minutes before this dish is done cooking.
The frozen broccoli doesn't need to be defrosted prior to cooking, so feel free to add them directly from the bag into your slow cooker. Actual cooking times will varying by individual unit, so be sure to watch closely the first time you prepare this recipe to achieve desired results.
Prep time: 10 minutes
Cook time: 3-7 hours
Serves: 4-6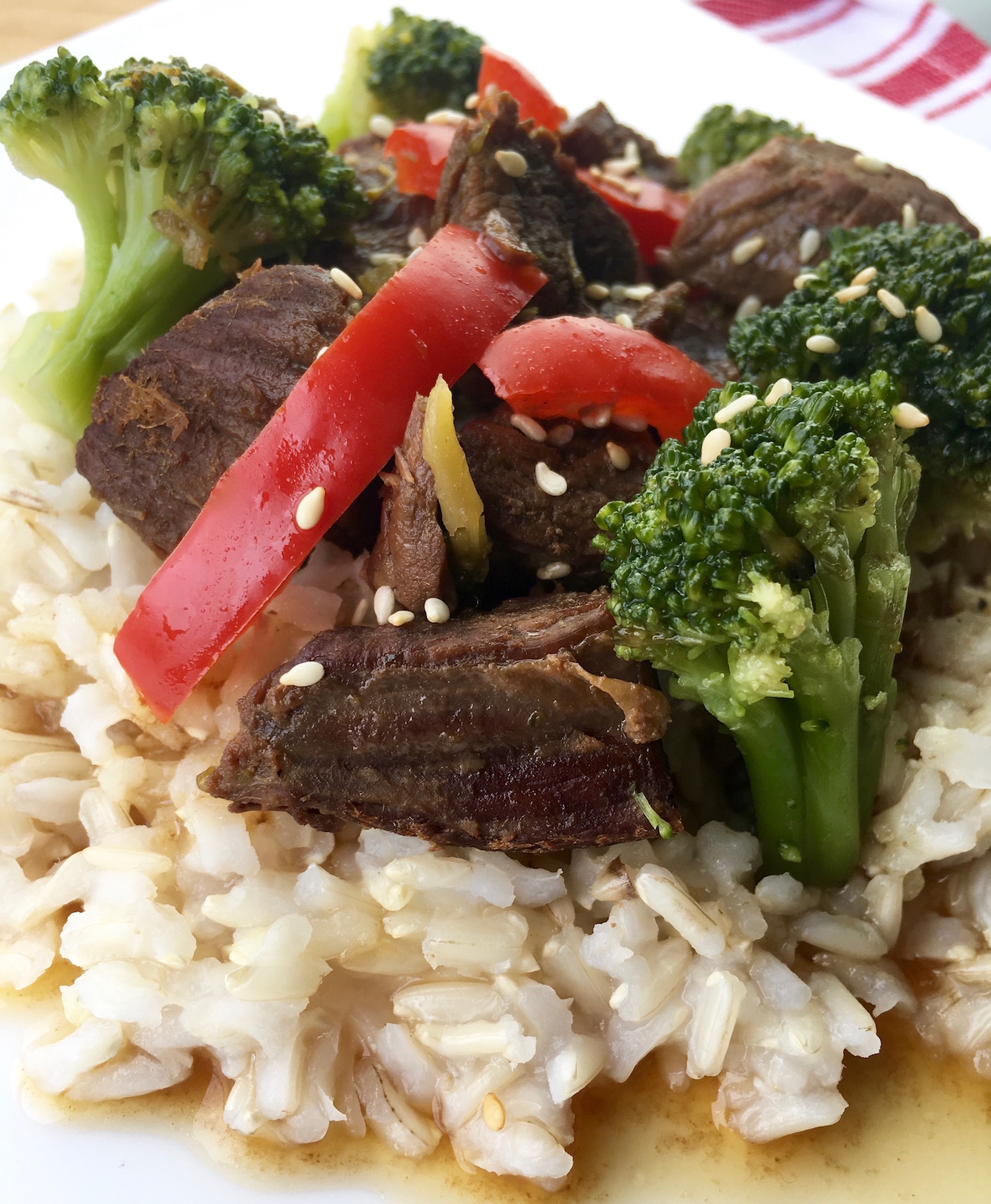 Ingredients:
1½ lbs. beef stew meat, cut into chunks
1½ c. beef stock (gluten free, check labels)
3-4 cloves garlic, finely minced
½ c. gluten-free soy sauce
1 T. honey
2 T. toasted sesame oil
Salt and black pepper, to taste
2 T. arrowroot
1 14-oz. bag frozen broccoli florets
1 red bell pepper, cut in short, thin strips
3 c. brown rice, cooked
1 T. toasted sesame seeds (optional)
Tip:
Adding the vegetables 15-20 minutes before done cooking will yield crisp-tender results. Cook longer for softer veggies.
Directions:
Add beef stew chunks to 5 or 6-quart slow cooker.
In a medium glass or other non-reactive bowl, whisk beef stock, garlic, soy sauce, honey, and sesame oil to combine. Season with salt and black pepper, to taste. Pour mixture on top of beef. Cover and cook for 3-4 hours on high or 6-7 hours on low.
To create a thicker sauce, create a slurry by combing 2 tablespoons of arrowroot with ¼ cup of liquid from the slow cooker. Set aside.
15-20 minutes before done cooking, remove lid and stir in the arrowroot slurry, then the frozen broccoli and red bell pepper. Cover and finish cooking.
Serve immediately with cooked brown rice and a drizzle of sauce from the slow cooker. Garnish with some toasted sesame seeds before serving, if desired.
Enjoy!
Kathy
If you click on any of the links associated with this post we will receive a small stipend!! Thank you for supporting my recipe addiction!!
This recipe turned out so good! For this recipe I used my 6 Quart Crock Pot Slow Cooker. When it comes to busy week days its a huge help to have a slow cooker to pop all the ingredients in it set it and go!! The versatility in this slow cooker is amazing! Last week I used my slow cooker to make a pork roast. I seared the roast right in the pot and then added the rest of my ingredients and used the slow cooker setting to cook it. The roast made perfect pulled pork sandwiches. That is just one of many many things this thing can do. If you haven't tried out a slow cooker yet you need to click on the link and give it a try!!