Gluten Free Baked Coconut Shrimp with Avocado-Lime Dip
In traditional versions of this recipe, shrimp is coated with sweetened coconut flakes and panko breadcrumbs, then deep fried. This healthier, lighter version is gluten free and baked, rather than fried. This version also calls for unsweetened coconut flakes, which allows the other seasonings to take center stage. Here, a tangy avocado-lime dip rounds out the flavors. However, a sugar-free orange marmalade would be a wonderful addition, as well.
In this case, large 10/15 count shrimp were used. However, medium-sized shrimp work better for larger gatherings. If using smaller shrimp, reduce cooking time by a few minutes to prevent overcooking.
Tip: For crispier results, reduce baking time to 10 minutes, then place the shrimp under the broiler for 1-2 minutes per side.
Prep time: 15 minutes
Cook time: 12-15 minutes
Serves: 4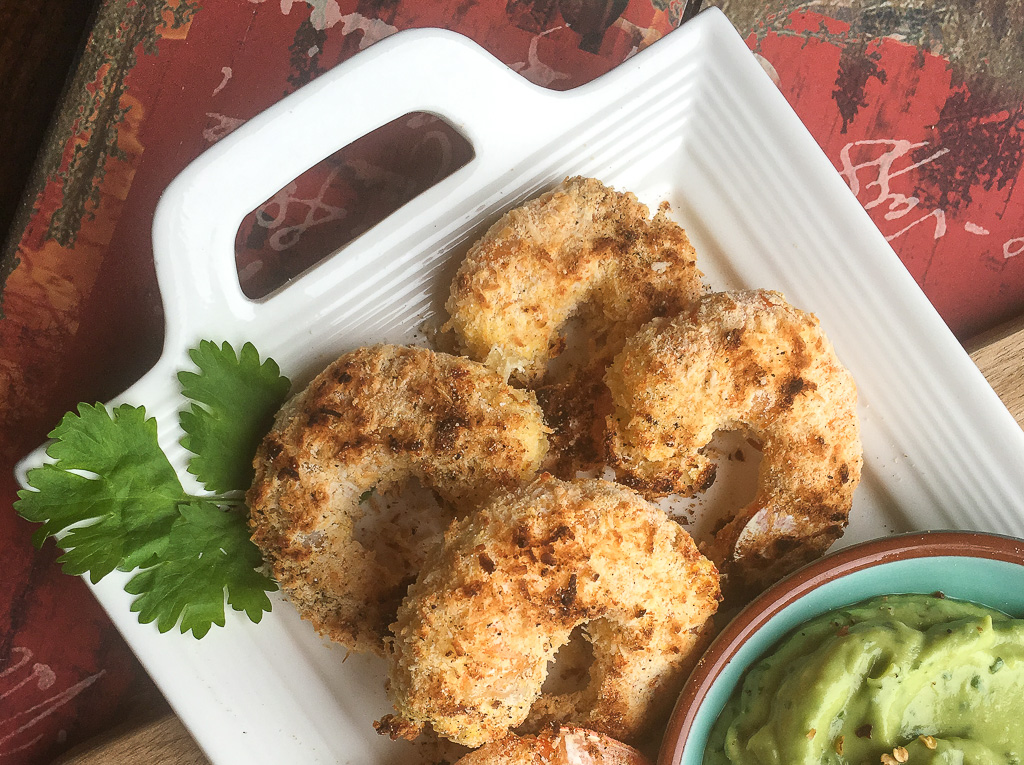 Ingredients:
½ c. almond (or coconut) flour
1 t. smoked paprika
1 t. ground cumin
1 t. garlic powder
1 t. onion powder
Sea salt and black pepper, to taste
2 eggs
2 T. water
¾ c. shredded coconut, unsweetened
1 lb. 10/15 count gulf shrimp, peeled and deveined, tails on
Avocado Lime Dip:
1 large ripe avocado, pitted and peeled
3 T. fresh cilantro, stems removed
2 T. fresh lime juice
¼ t. ground cumin
½ t. red pepper flakes
Sea salt and black pepper, to taste
Directions:
Preheat oven to 400°F and line a large, rimmed baking sheet with parchment paper or a Silpat® baking mat. Set aside.
Combine almond flour, smoked paprika, ground cumin, garlic powder, and onion powder in a pie pan or shallow bowl. Season with salt and black pepper, to taste, and set aside.
In a second pie pan or shallow bowl, gently whisk the eggs and water until frothy. Season with salt and black pepper, as desired, and set aside.
Add shredded coconut to a third bowl and set aside.
Working one at a time, dredge each shrimp in the seasoned almond flour, then dip in the egg mixture. Allow excess egg to drip off before transferring shrimp to the bowl of shredded coconut. Turn to coat shrimp thoroughly before transferring to the prepared baking sheet. Repeat with remaining shrimp and season with additional salt and black pepper, if desired.
Place baking sheet in preheated oven and bake until golden-brown and crispy, around 12-15 minutes, turning once halfway through.
Meanwhile, add avocado, cilantro, lime juice, and cumin to a food processor or blender and blend until smooth. Add a tablespoon or two of water, if necessary, to reach desired consistency. Season with salt and black pepper, to taste. Transfer to a small serving bowl and sprinkle with red pepper flakes. Set aside.
Remove shrimp from oven and serve immediately with avocado-lime dip on the side.
Enjoy!
Kathy
If you click on any of the links on this post we will receive a small commission. Thank you for supporting my recipe addiction!!
When it comes to baking sheets I really love the USA Baking Sheets. They are some of the best baking sheets I have ever tried. They take very minimal effort to clean and food just slides right off, no need to scrape and scrub these pans it will not stick. I made snickerdoodle cookies the other day and took them over to my friends house for a gathering and wow were people impressed they baked perfectly, crunchy on the outside while nice and soft on the inside! You cannot go wrong with these pans. Click on the link and try them out!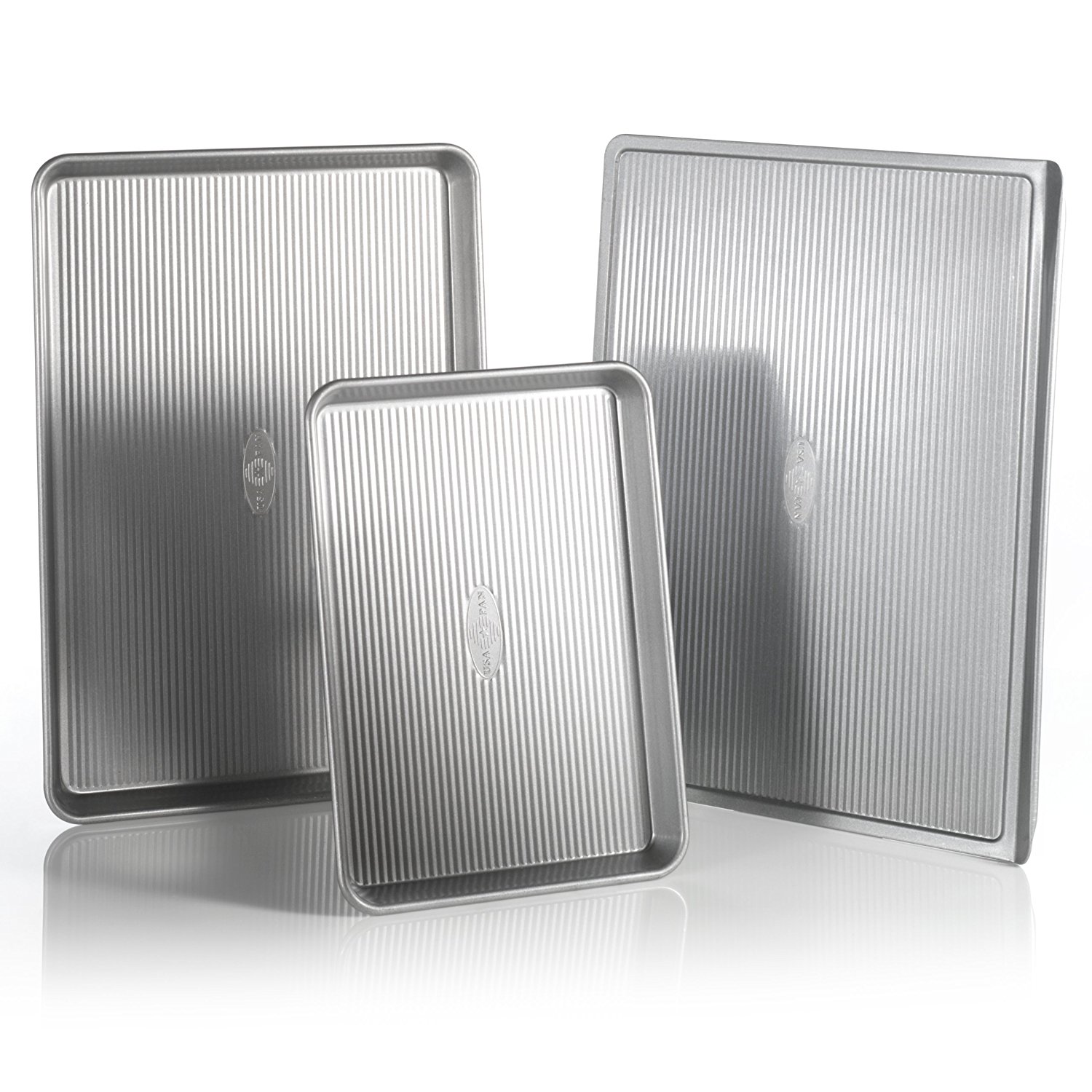 When it comes to food processors I love my Cuisinart Food Processor! It will chop/slice/shred/puree anything you put into it! I have used mine hundreds of times and it still works as if I just took it out of the box! I have a garden and every year I plant a couple zucchini plants and by the end of the summer I have so much I don't know what to do with it. So I take out my Food Processor and start shredding/slicing making baggies of zucchini to pop in the freezer to use during the winter months. Then you just defrost, drain, and use it in your favorite recipes! My favorite recipe is my zucchini bread perfect for a quick and easy breakfast in the mornings and who doesn't love the smell of cinnamon! To pick one up and start shredding click on the link!