Candy Corn Treats and Crafts
Do you love candy corn as much as i do? Yes, I know it's really sweet ( like rot your teeth sweet) and yes it's full of all kinds of things I shouldn't be eating, but hey…… we give up so much as it is I figure a few indulgences are in order 😉
Candy corn has been around for a long time (since the 1880s, in fact), but if Pinterest is any indication, its popularity has been surging in recent times. Or if that's not convincing enough, according to the National Confectioners Association, 25 million pounds of candy corn are sold each year*. The candies are a very sweet treat in themselves, but there are also plenty of ways to incorporate them into fun food items and even your décor.
This guide includes 20 of those ways. Each project is relatively easy to create. You can bake some items from scratch or use premade items to whip things up quickly.
*Source: http://en.wikipedia.org/wiki/Candy_corn
So, for the next couple of weeks I will pay homage to this iconic sweet treat and offer you a sampling of fun food treats and a few crafty ways to get your candy corn fill!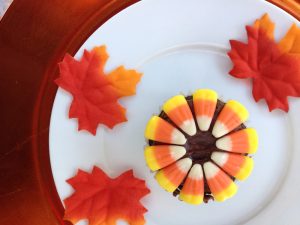 Idea# 1: Candy Corn Flower Cupcakes
These delightful cupcakes give a little feeling of Spring in the dreary days of Autumn. Simply ice a cupcake with your favorite frosting. Use chocolate icing for a contrast or try orange to keep with the candy corn color theme.
Arrange the candy corns on the frosting in a flower pattern. You can use a dot of frosting in the middle ( I would use a yellow frosting to make it really pop) or you can push in a chocolate kiss or maybe a round lollipop with the stick cut shorter, or just let the frosting from the cupcake show through, like in the picture. You could even do a whole cake with multiple flower patterns for an eye-catching design which would be really cool!
If you're in  a hurry and don't want to make cupcakes from scratch,
I really like King Arthur Flour's Chocolate Cake Mix.  Really good and tasty. I think you'll like it.
And here is an awesome muffin tin that works very well. Sturdy and hefty so it won't warp on you.
I just love USA pans. Made right here in America and fantastic quality!
Have fun!
Oh, and show me your picks on our Facebook page. Would love to see your Halloween makes!
Kathy