Rich and delicious with honey and molasses. These muffins are wonderful with fruit and cheese for either breakfast or a late night snack or dessert.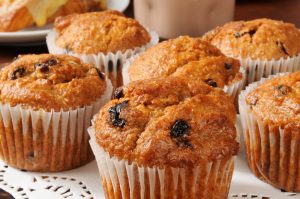 Fig Bran Muffins
Ingredients:
½ cup sorghum flour
1/3 cup brown rice flour
2 Tbsp. tapioca flour
2 Tbsp. gluten free rice bran
2 tsp. baking powder ( I like Rumford's aluminum free)
½ tsp. baking soda
1 tsp. xanthan gum
¼ tsp. salt
1 large egg
¾ cup buttermilk
2 Tbsp. oil
2 Tbsp. honey
2 Tbsp. molasses ( regular or dark will work but not blackstrap)
½ cup chopped, dried figs
Directions:
Lightly grease a 6 cup muffin pan, set aside.
30 minute rest time for the batter is recommended. Take that into account when you get ready to make these muffins.
Pull out two medium sized bowls.
In one of the bowls, whisk together the flours, bran, baking powder, baking soda, xanthan gum and salt. Stir in the chopped figs.
In the other bowl, beat together the egg, buttermilk, oil, honey and molasses. Slowly beat in the flour mixture so you don't end up with a flurry flour storm ;).
Using a large cookie scoop, scoop the batter into the prepared pan. Set aside for 30 minutes to allow the flours to soak in the liquid and give the leaveners a chance to lighten the batter.
20 minutes into the rest time, go ahead and preheat the oven to 350 degrees.
Bake for 19 to 22 minutes or until the muffins are done when a toothpick inserted in the center comes out clean.
Remove the muffins from the oven. Let them cool in the pan for 5 minutes. Then pop out and place on a wire rack to cool completely.
If you have trouble getting your muffins to come out in one piece, use a thin spatula and run around the sides to loosen.
Substitutions and hints:
You can substitute gluten free oat bran for the rice bran if you want. Gives a different flavor but the texture will be the same.
You can also swap out chopped dates for the figs if you want.
If you don't have buttermilk, make your own by placing 1 cup of milk in a bowl. Stir in a tablespoon of fresh lemon juice or white vinegar. Let sit for 3 minutes and then use.
Enjoy everyone!
Kathy
Adapted from "the Gluten Free Baking Book"
You can buy it on Amazon: Grab the link: GF Baking Book