Gluten Free Bone-In Pork Chops with Creamy Mushroom Sauce
These rustic pork chops are packed with tons of flavor, and they are so quick and easy to prepare. This recipe is sure to become a new go-to family favorite!
For best results, allow your pork chops and dairy ingredients to set at room temperature for 30 minutes or so before you begin cooking. Cooking meat right out of the refrigerator will take longer and your results will not be as consistent. Adding chilled dairy products to hot sauces can cause them to curdle.
Prep time: 5 minutes
Cooking time: approximately 25 minutes*
Serves: 4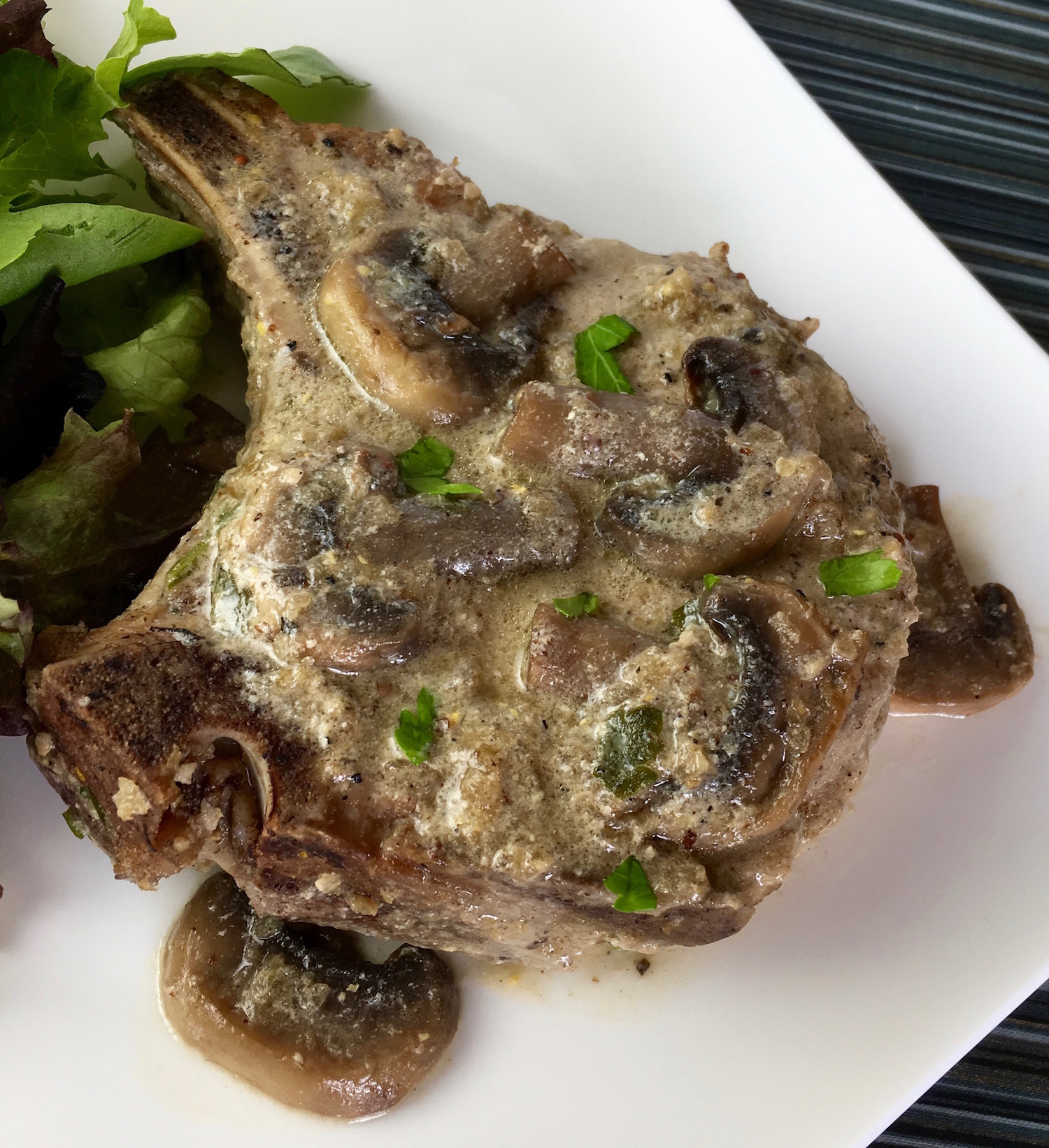 * Actual cooking time will depend on how thick your chops are and their internal temperature when you start cooking them.
Ingredients:
3 T. extra virgin olive oil
4 bone-in pork chops, approximately 1/2" thick, room temperature
Sea salt and freshly ground black pepper, to taste
8 oz. white mushrooms, washed and sliced
2 T. yellow onion, finely minced
2 cloves garlic, peeled and minced
¾ c. chicken broth, preferably organic (gluten free, check labels)
¼ c. half and half, room temperature
¼ c. non-flavored, full-fat Greek yogurt, room temperature
3 T. fresh parsley, stems removed and leaves finely chopped, divided
Optional:
1 t. ground arrowroot (to thicken sauce)
Directions:
Heat olive oil in a large, heavy-duty skillet over medium-high heat.
Season pork chops on each side with salt and pepper to taste and add to the hot skillet. Brown pork chops on each side, approximately 3-4 minutes per side.
Remove pork chops from pan and set aside. Reduce heat to medium and add sliced mushrooms to pan. Cook until mushrooms release their juices, approximately 6-7 minutes, while stirring occasionally. Add onion and garlic to pan and cook for 1-2 minutes more, stirring once or twice.
Deglaze the pan by adding the chicken broth and scraping up the brown bits on the bottom. Add the pork chops back to the skillet and reduce heat to low. Cover and cook for approximately 8-10 minutes or until chops are cooked through.
Transfer chops to a serving plate and cover to keep warm. While the chops rest, stir in the half and half, Greek yogurt, and 2 tablespoons fresh parsley until blended into the pan sauce. Continue cooking until heated through, about 1-2 minutes. Season with additional salt and pepper, to taste, and remove from heat.
To serve, spoon mushroom sauce over the pork chops and sprinkle with additional parsley. Serve immediately.
Tip: If you prefer a thicker sauce, combine 1 teaspoon of arrowroot with some water and stir the slurry into the pan before returning the pork chops to the pan to finish cooking.
Enjoy!!
Kathy
If you click on any of the links associated with this post we will receive a small commission!! Thank you for supporting my recipe addiction!!
When it come to serving platters generally I go for something that will go with lots of color schemes like white. It photographs really nice and when paired with a linen that has color you cant go wrong. Sometimes though I want a serving platter that has color. I really love this Gibson Elite serving platter! It has kinda of a rustic feel to it which I like.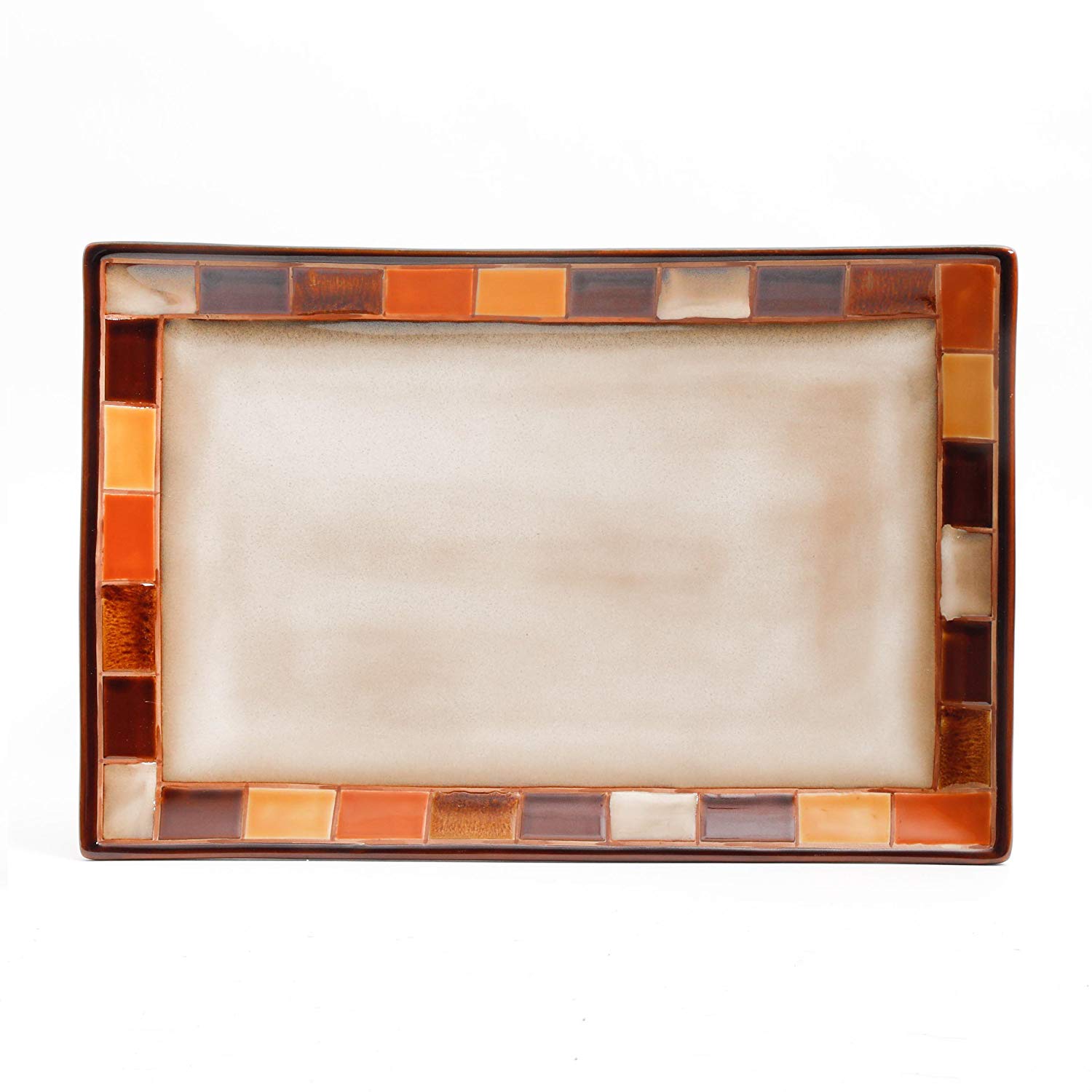 Who doesn't love a quick and easy dish on a crazy weeknight. I made these last week and it was a huge hit for my family!! For this recipe I used my Le Creuset Cast Iron Skillet. When it comes to skillets you can't go wrong with Le Creuset. I have had this skillet for a number of years now and I love it!! This skillet has an enamel interior to prevent sticking and make clean up a cinch. As we all know cast iron skillets can be a little on the heavy side of life but this one has a large looped handle that helps moving it a lot easier. There are so many things I love about this skillet so you have to check it out. Click on the picture or link and check it out for yourself!!