These gluten free cookies are so cool. The boys in your family will love them. And talk about easy. Just press and bake. This is definitely going to be at my Halloween party this year.
Creepy Gluten Free Halloween Cookies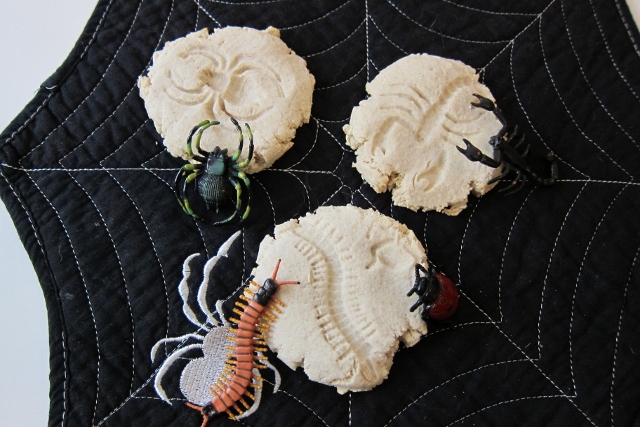 Ingredients:
1 pkg. Gluten Free Shortbread Cookie Mix (Bobs' Red Mill brand used)
Ingredients to make the cookies
1 pkg. of Plastic Creepy bugs

Directions:
Wash and dry your bugs. Set aside.

Make the shortbread cookie dough as instructed on the package.
Scoop out the dough using a large cookie scoop and place on parchment lined baking sheets. Press with the bottom of a flat glass dipped in sugar to make a round shape. Take one of the bugs and press firmly into the dough to leave an impression. Pull off gently to leave your "fossil"  imprint.
Bake as directed on the package, usually at 350 degrees for about 5 to 8 minutes depending on how thick your cookies are.
Remove baking sheet from oven and carefully transfer to a wire rack to cool.

Repeat with all the cookie dough until you have made all your cookies.  
Makes about 24-36 cookies depending on how big you make them!!
I found the bugs at a dollar store.
Aren't these amazing! To easy to do and lot's of WOW factor.
Everything is very simple and easy so you can enjoy Halloween too!
Happy Halloween!
Kathy
If you click on any of the links on this page we will receive a small commission!! Thank you for your support!!
If you liked this recipe, please buy our cookbook: Gluten Free Halloween Cookbook.
Loaded with enough recipes and party ideas. The recipes take store bought mixes that you prepare and then decorate them for an awesome Halloween party time!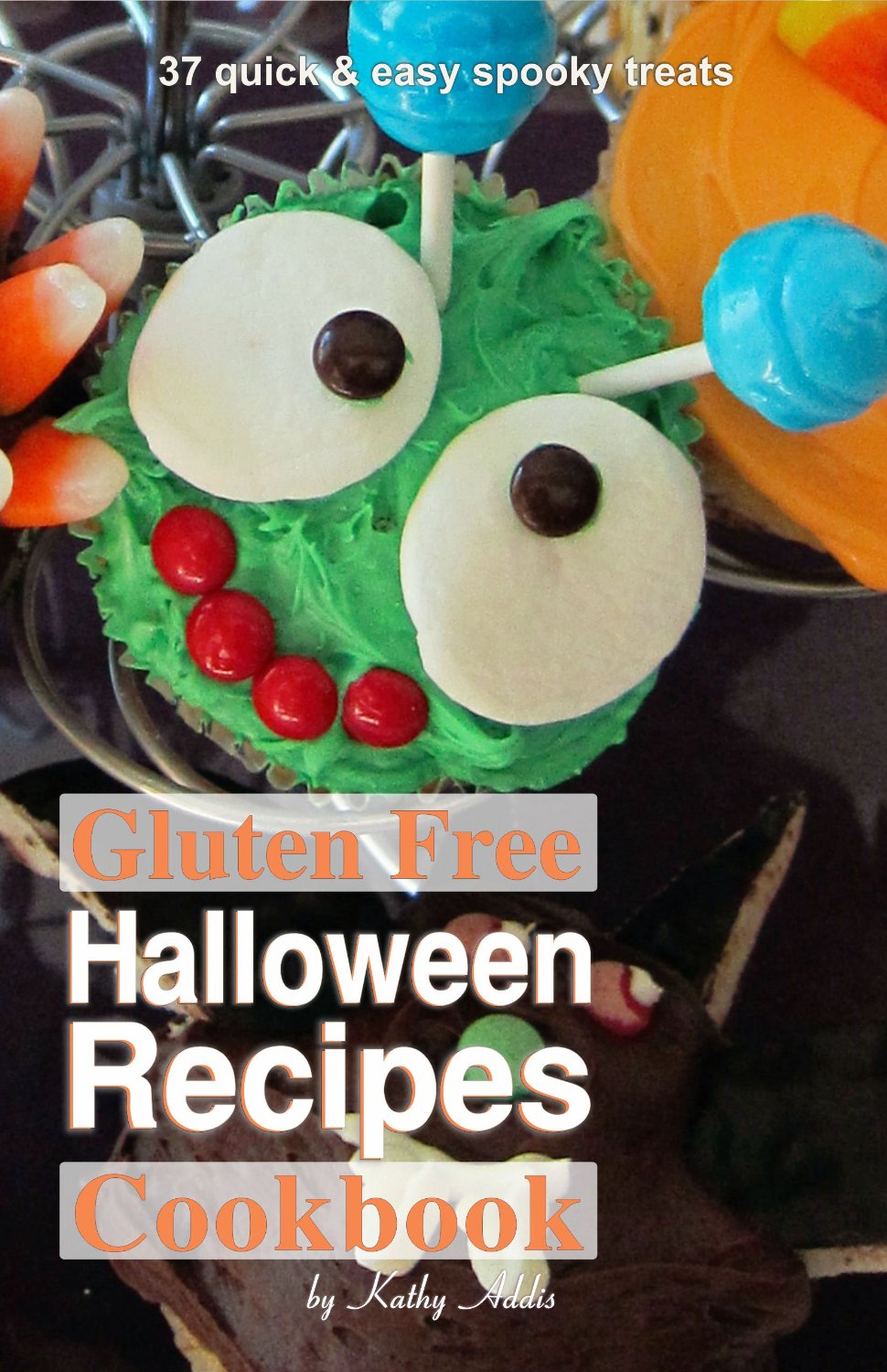 If you haven't tried cookie scoops before, you really need to get some. These work great for portioning out dough. I also use them to scoop out muffin mix and form drop biscuits. I also use them to make meatballs since they all come out the same size. I really like the stainless steel ones. They last a lot longer.
Take a peak at these from Amazon: http://amzn.to/2xBMSpv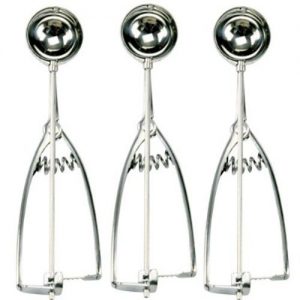 I used my USA baking sheets for this recipe and it turned out fantastic! These baking sheets are some of the best that I have tried and recommend that you try them out for yourself. They are made of Aluminized steel which yields high performance in your baking and durably in these pans. These baking sheets also have a corrugated nonstick surface so they will not warp at high temperatures and allows for increased air flow for perfect baking every time, best part is they are produced right here in the USA!! Click on the link or picture to purchase some for your kitchen!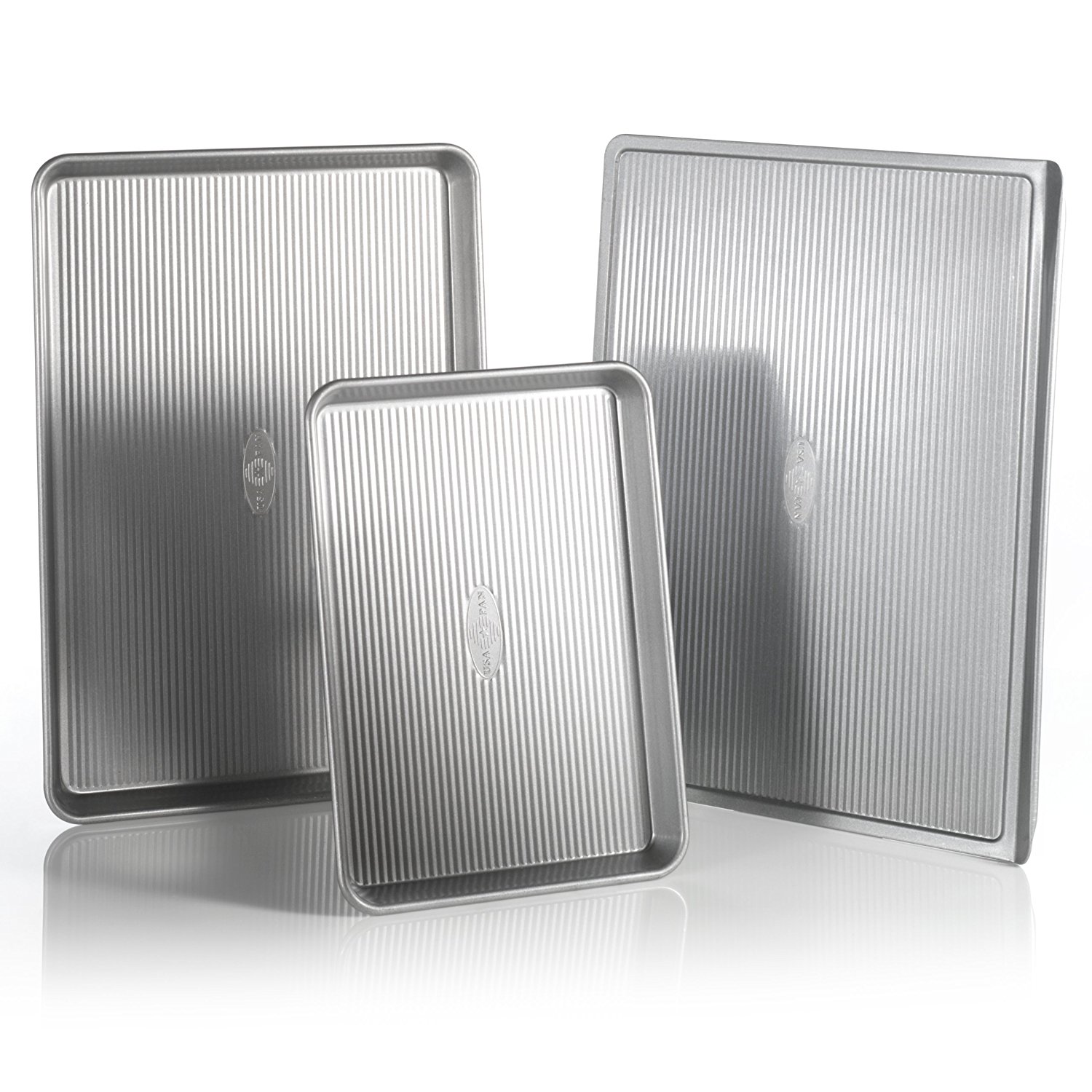 When decorating cookies, brownies, cakes and really any other goodies you want to make sure they cool completely before decorating otherwise you will end up with all your frosting melting all over the place. To ensure that you cool them thoroughly you want to use a cooling rack. I used my Ultra Cuisine Cooling Rack. Not only will it take longer to cool in the baking pan or baking sheet but if you let it sit in the hot pan then it will continue to cook even after you take it out of the oven. By removing your goodies from the pan and placing them on the cooking rack it stops the cooking process right away. Click on the picture or link to get some for your kitchen!!