Gluten Free Instant Pot Asian Beef & Rice
There is quite a bit of variation when it comes to cooking rice in an Instant Pot because the correct settings and cooking times vary from one type of rice to another. Per the manufacturer, the "Rice" setting is intended for white or parboiled rice only. For the gluten free long-grain brown rice used in this recipe, use the "Manual" setting on high and set the cooking time to 22-25 minutes, "depending on your preferences and any local issues, like high elevation."
Source: https://instantpot.com/how-to-cook-perfect-rice-in-an-electric-pressure-cooker/
This recipe suggests 22 minutes as the active cooking time, but feel free to extend this time if you prefer softer rice. In addition, this version includes a little more liquid than the 1:1 ratio recommended by the manufacturer to account for the added ingredients.
Tip: For best results, marinate the beef the night before for the meat to develop more flavor.
Prep time: 10 minutes + time to marinade
Cook time: 32 minutes + time to come to pressure
Serves: 4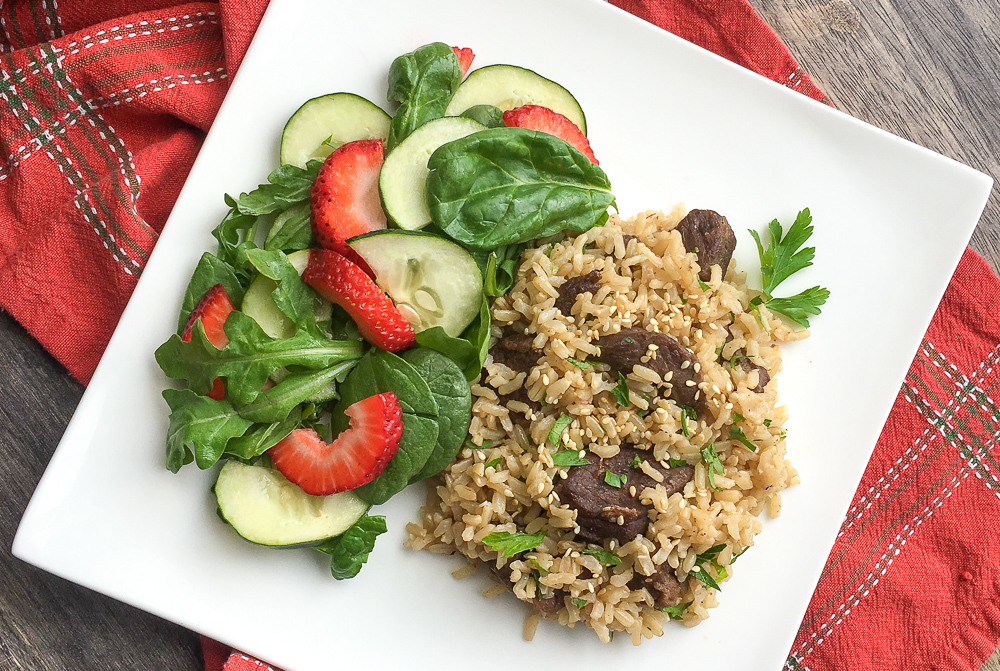 Ingredients:
3 T. gluten-free soy sauce or coconut amino
¼ c. sesame oil, divided
2 T. honey
2 T. lime juice
½ t. garlic powder
½ t. onion powder
2 t. fresh ginger, finely minced
1 t. crushed red pepper flakes
Sea salt and black pepper, to taste
1½ lbs. stew beef, cubed
1¼ c. water or beef broth (check labels)
1 c. long-grain brown rice, rinsed and drained
1 T. sesame seeds
3 T. fresh parsley, finely chopped
Directions:
Combine soy sauce, 2 tablespoons sesame oil, honey, lime juice, garlic powder, onion powder, fresh ginger, and red pepper flakes in a glass or other non-reactive bowl. Season with salt and black pepper, to taste, and stir to combine. Set aside.
Place the beef cubes into a seal able plastic bag and pour the marinade on top. Seal and gently turn the bag to thoroughly coat the beef. Marinate at room temperature for at least 30 minutes, or place in the refrigerator overnight. Turn bag occasionally for even distribution of the marinade.
To prepare, add remaining 2 tablespoons of sesame oil to Instant Pot and press the "Sauté" button. Adjust the heat setting to high. Once hot, transfer the beef cubes to the Instant Pot and discard the remaining marinade. Brown the beef on all sides, approximately 3-4 minutes. Add the beef broth and scrape up the brown bits from the bottom of the container.
Turn Instant Pot off and add brown rice. Season with salt and black pepper, to taste. Add lid and securely lock. Flip the pressure value to the "Sealing" position and press the "Manual" button. Adjust setting to high and set cook time for 22 minutes. After a brief pause, the Instant Pot will automatically start building pressure.
When cook time is complete, allow pressure to release naturally for 10 minutes, and then do a quick release for any remaining pressure.
Carefully remove lid and fluff the rice with a fork. Taste and adjust seasonings, as desired.
Transfer to a plate and sprinkle with toasted sesame seeds and chopped parsley, if desired. Serve immediately with your favorite sides.
Enjoy!
Kathy
If you click on any of the links on this blog we will receive a small commission! Thank you for supporting my recipe addiction!!
This Instant Pot has become my new best friend. With more recipes they anyone can ask for, the relationship between my Instant Pot and I will be growing in the future. I hope you like this recipe along with other ones in my blog and it convinces you to purchase one for yourself. Its not always easy to cook gluten free but the Instant Pot sure does help! Click on the link to purchase one for you or for a gift and I hope you enjoy it as much as I do!