Gluten Free Classic Beef Stew
This hearty gluten free beef stew features plenty of delicious, garden-fresh herbs and vegetables, so it's a great way to enjoy those savory treasures from your own garden or the local farmers' market. This satisfying dish can be served on its own or paired with your favorite salad for a more well-rounded meal. Either way, this recipe will feed a crowd – or leave plenty of leftovers for lunch the next day.
Prep time: 20-25 minutes
Cook time: 1½ – 2½ hours
Serves: 8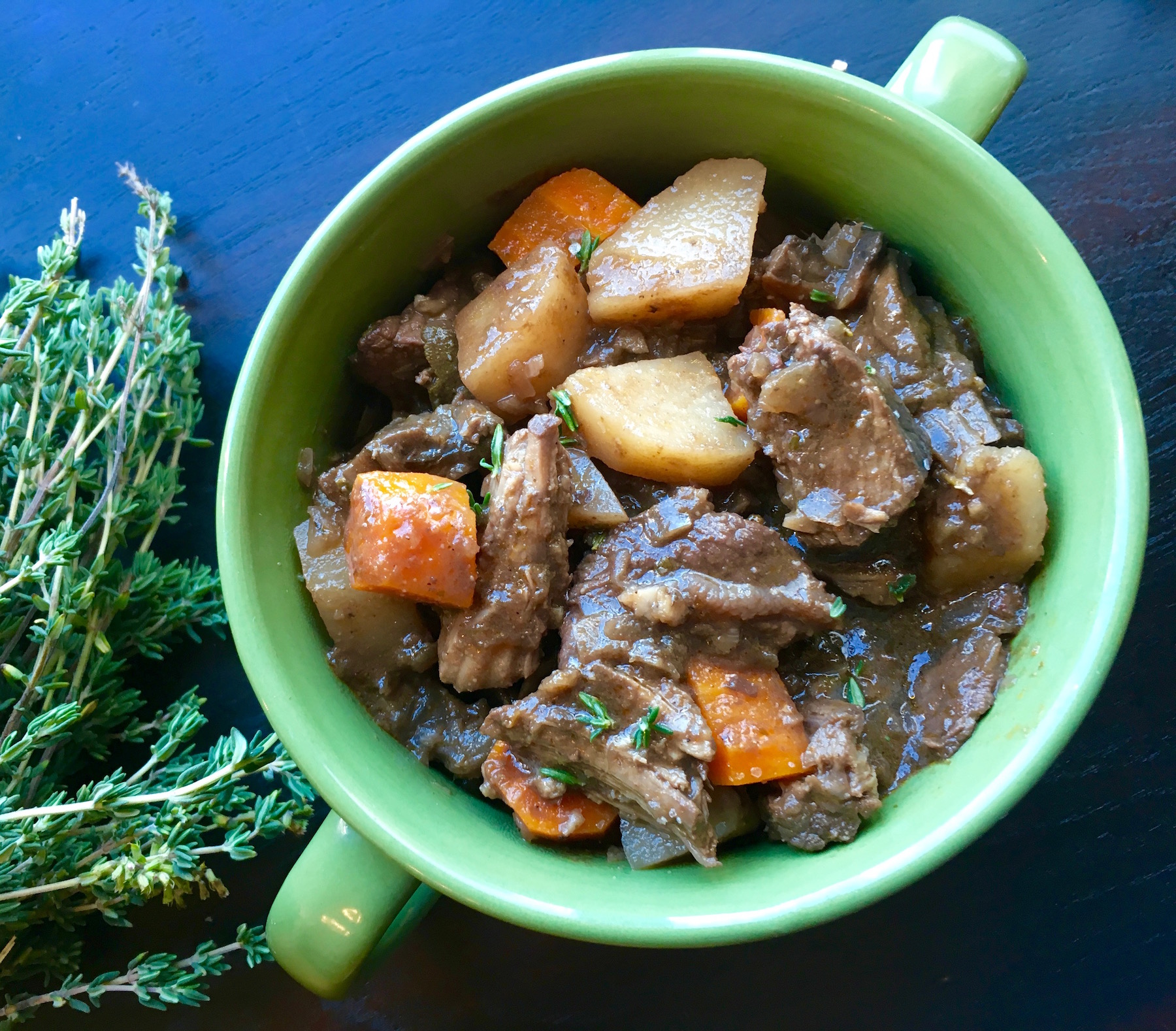 Ingredients:
2 T. extra virgin olive oil
3-4 cloves fresh garlic, minced
8 oz. white mushrooms, sliced
2 lbs. beef stew, cut into 1" cubes
Sea salt and black pepper, to taste
3-4 c. organic beef stock, divided* (gluten free, check labels)
1 c. dry red wine
1 whole bay leaf
3 large carrots, chopped
2 large stalks celery, finely diced
1 medium yellow onion, diced
2 lbs. Russet potatoes, chopped
2 t. fresh thyme leaves, rinsed
2 t. fresh oregano leaves, rinsed
1 T. fresh rosemary leaves, chopped
*Use more or less beef stock to achieve the desired consistency
Directions:
Wash and peel all vegetables and pat dry before prepping. (Potato skins can either be left on or removed based on personal preference).
Heat olive oil, garlic, and mushrooms in a large (5 or 6-quart) dutch oven or soup pot over medium-high heat. Sauté for 5-7 minutes or until mushrooms start to release their liquid, stirring occasionally.
Working in batches if necessary, add beef to pot and cook until browned on all sides. Season with salt and black pepper, to taste. Transfer browned beef and mushroom mixture to a large bowl, and return empty pot to the cooktop.
Deglaze pot with 1 cup beef stock and the red wine over medium-high heat, using a spatula or wooden spoon to scrape up any brown bits. Boil liquid until reduced by one half before returning the beef-mushroom mixture to the pot.
Reduce heat to medium-low and add 2 cups of beef broth and the bay leaf to the pot. Cover and simmer for 1-1½ hours, or until the beef is tender. Stir beef mixture occasionally while simmering.
Remove lid and add carrots, celery, onion, potatoes, and fresh herbs. Stir to combine and add additional beef stock, if necessary, to reach desired consistency.
Continue simmering, uncovered, for another 20-25 minutes or until potatoes and carrots are tender, but not mushy. Remove from heat and discard bay leaf. Season with additional salt and pepper, to taste. Spoon hot stew into individual serving bowls and serve immediately.
Enjoy!
Kathy
If you click on any of the links associated with this post we will receive a small commission! Thank you for your continuous support it is greatly appreciated!!!
For a really nice dutch oven you need to try the Le Creuset dutch oven. I have talked about this pot several times in previous posts and how much I love it! It is really high quality and worth the investment. This pot will be something that will last a very long time and possibly something you pass down (if they behave haha). I got my first Le Creuset dutch oven from my mom and now my collection and love for these pots has grown. Click on the link and snag one or many for your kitchen!!