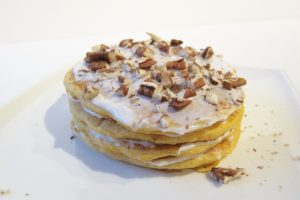 Get ready for great complements over these. Everyone will love them. Some crisp bacon would be a great addition. My mouth is watering already.
Pumpkin Spice Pancakes
Ingredients:
2 cups gluten free flour blend ( we used King Arthur Flour cup for cup blend)
2 Tbsp. brown sugar
1 Tbsp. baking powder
¼ tsp. baking soda
½ tsp. salt
½ tsp. xanthan gum (omit if your flour blend has it already)
½ tsp. cinnamon
¼ tsp. nutmeg
¼ tsp. ginger
2 eggs, beaten
1 ½ cups milk
1 cup mashed pumpkin, canned or fresh cooked
3 Tbsp. butter or non-dairy margarine, melted
1 tsp. gluten free vanilla
1/3 cup chopped pecans, for garnish
Directions:
In a large mixing bowl, whisk together the gluten free flour, brown sugar, baking powder, baking soda, salt spices and xanthan gum. In a medium sized bowl stir together the eggs, milk, pumpkin, melted butter and vanilla. Add the wet ingredients to the flour mix and stir until combined.
Allow the batter to rest for 10 to 15 minutes to allow the flour to absorb the liquid.
Heat a griddle or heavy skillet over medium heat until water will dance across the surface (about 300 degrees). Grease the griddle or skillet with a piece of parchment paper that has been rubbed with shortening, if needed.
Ladle pancake batter onto the hot griddle and cook until golden brown and bubbles have appeared on the surface. The edges should appear dry (about 2-3 minutes). Flip and cook other side until golden. Place on an ovenproof dish and keep hot in a 300 degree oven until ready to serve.
Makes 16 pancakes
Serve with Cream Cheese Sauce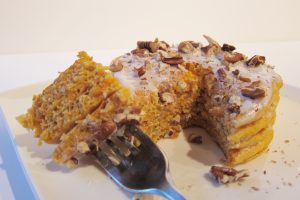 Cream Cheese Pancake Sauce
3/4 cup (3 ounces) confectioners' sugar
1/4 cup (2 ounces) tub-style low-fat cream cheese, softened (do not use nonfat)
1 to 2 tablespoons nonfat milk
1/2 teaspoon vanilla extract
For the sauce: Combine the confectioners' sugar, cream cheese, milk and vanilla extract in a small bowl, whisking until smooth and pourable. Transfer to a small serving pitcher to pass separately at the table.
Serve pancakes with Cream Cheese Sauce and chopped pecans at the table for garnish.
These make a great weekend treat.
I love to cook and bake and having beautiful cookware just makes it more fun!
Take a peak at these gorgeous Fiesta Ware bowls: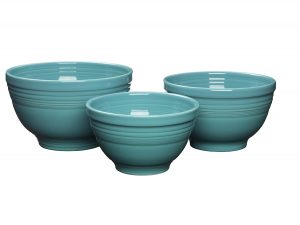 And if you don't have one, you really need a whisk to blend dry ingredients together. This one is constructed of all stainless steel and will last you a long time.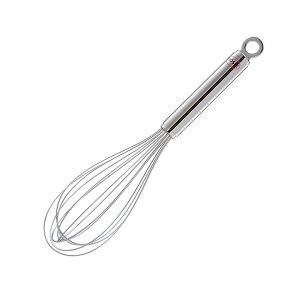 If you decide to clink on my links and purchase something, I will receive a commission for the sale.  It is greatly appreciated. Thank you!