Gluten Free One Pot Southwestern Chicken Soup
This delicious, gluten free one-pot recipe packs a ton of flavor into every bite. Adding some fresh lime juice and cilantro right before serving really brightens the flavors and pulls them all together. This soup makes a great appetizer, or pair it with a crisp, green side salad for a light, yet satisfying meal.
Prep time: 20 minutes
Cook time: 60 – 80 minutes.
Serves: 8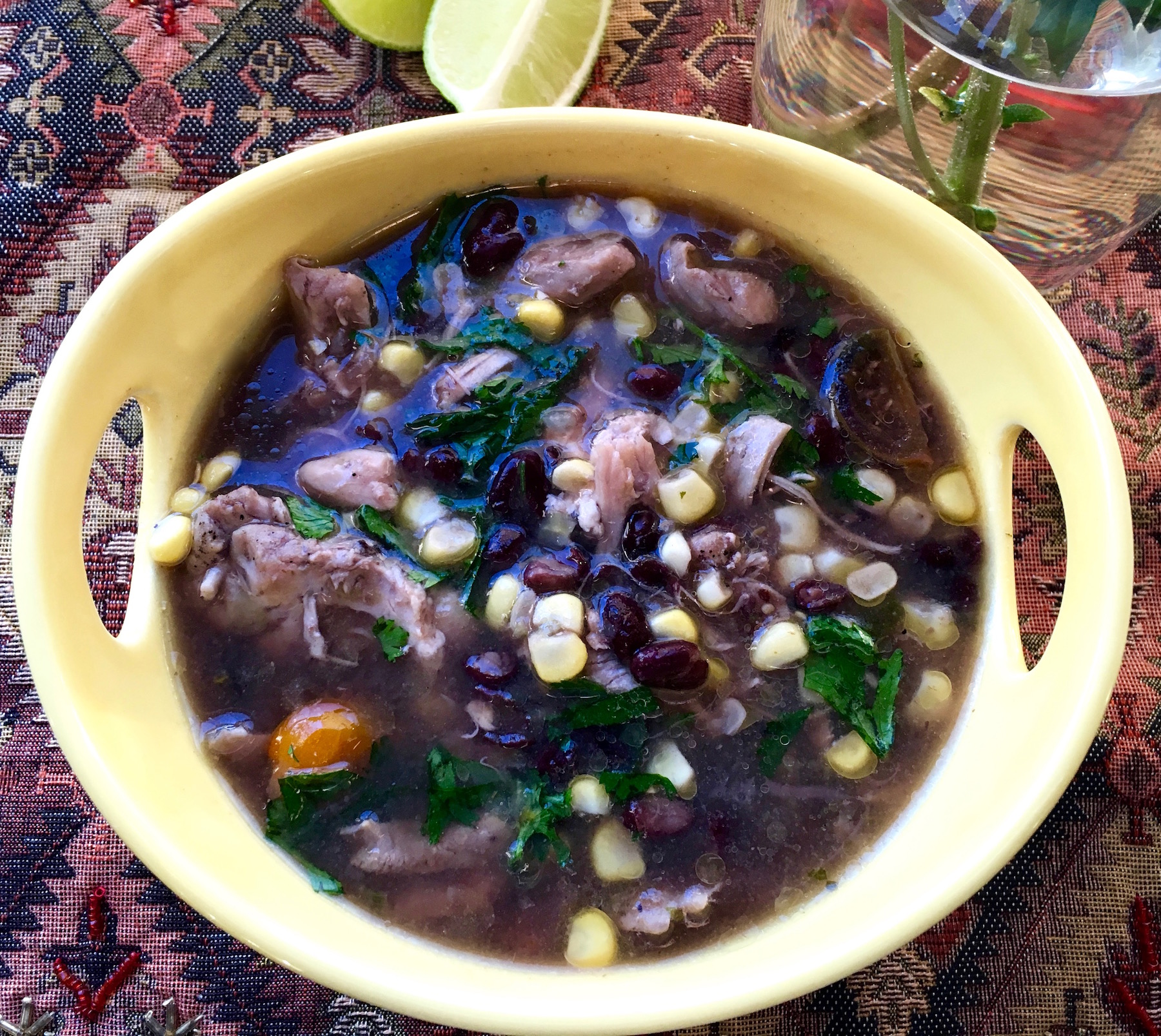 Ingredients:
2 T. extra virgin olive oil
3-4 cloves garlic, roughly chopped
2 lbs. boneless, skinless chicken thighs
Salt and black pepper, to taste
6 c. organic chicken broth, divided (gluten free, check labels)
4 ears fresh sweet corn, husked and kernels removed
2 15-oz. cans black beans, rinsed and drained
½ c. fresh tomatoes, chopped
1 small jalapeno pepper, finely diced
2 t. ground cumin
1 T. chili powder
2 t. dried oregano
½ t. cayenne pepper
4 limes, quartered
¼ c. fresh cilantro, chopped
Directions:
Heat olive oil and garlic in a dutch oven or soup pot over medium-high heat. Sauté garlic until golden brown, about 4-5 minutes. Remove browned garlic with a slotted spatula and discard.
Unroll chicken thighs and season both sides with salt and black pepper, to taste. Add chicken to the hot dutch oven and brown on both sides, approximately 3-4 minutes per side.
Add just enough chicken broth to pot to cover about 1/3 of the chicken thighs. Cover and reduce heat to medium-low. Simmer until chicken is pull-apart tender, approximately 40-45 minutes.
Once tender, carefully shred chicken with 2 forks while still in the pot. Add corn kernels, black beans, chopped tomatoes, jalapeno pepper, cumin, chili powder, oregano, and cayenne pepper to pot and top off with remaining chicken stock. Stir to combine and season with additional salt and black pepper, to taste.
Increase heat to medium and simmer until heated through, approximately 15 minutes. If time permits, simmer longer to give flavors more time to mingle. Remove from heat and stir in juice from 2 whole limes and fresh cilantro. Serve immediately with remaining lime wedges.
Enjoy!
Kathy
If you click on any of the links associated with this blog we will receive a small commission! Thank you for your continuous support!
For this one-pot meal I used my Le Creuset Cast dutch oven. I have talked about this pot in many posts before and is one of my favorite things in my kitchen! It is a little on the expensive side but completely worth the investment because it will last you a life time! The enamel coating on the interior of the pot prevents dings and chips while making clean up super easy! One thing that I absolutely love about my dutch oven is it works perfectly on my induction cook top. Sometimes in the summer when its a million degrees outside I don't want to turn on the oven or use my stove top, ill just pop it on the induction cook top and it doesn't heat up my kitchen as much! You need to try this dutch oven out for yourself so click on the link and give it a try trust me you will thank me later!!