Spicy Gluten Free Slow Cooker Chili
This gluten free slow cooker chili gets a nice boost of flavor by using a combination of spicy and sweet pork sausage, rather than plain ground beef. To turn up the heat even more, use all spicy sausage instead.
Tip: Crumble the bulk sausage with your fingers prior to browning. This gives you better control over the size of each piece and is easier than breaking up the chunks of sausage with a wooden spoon while cooking. Another alternative is to use a potato masher, if you have one.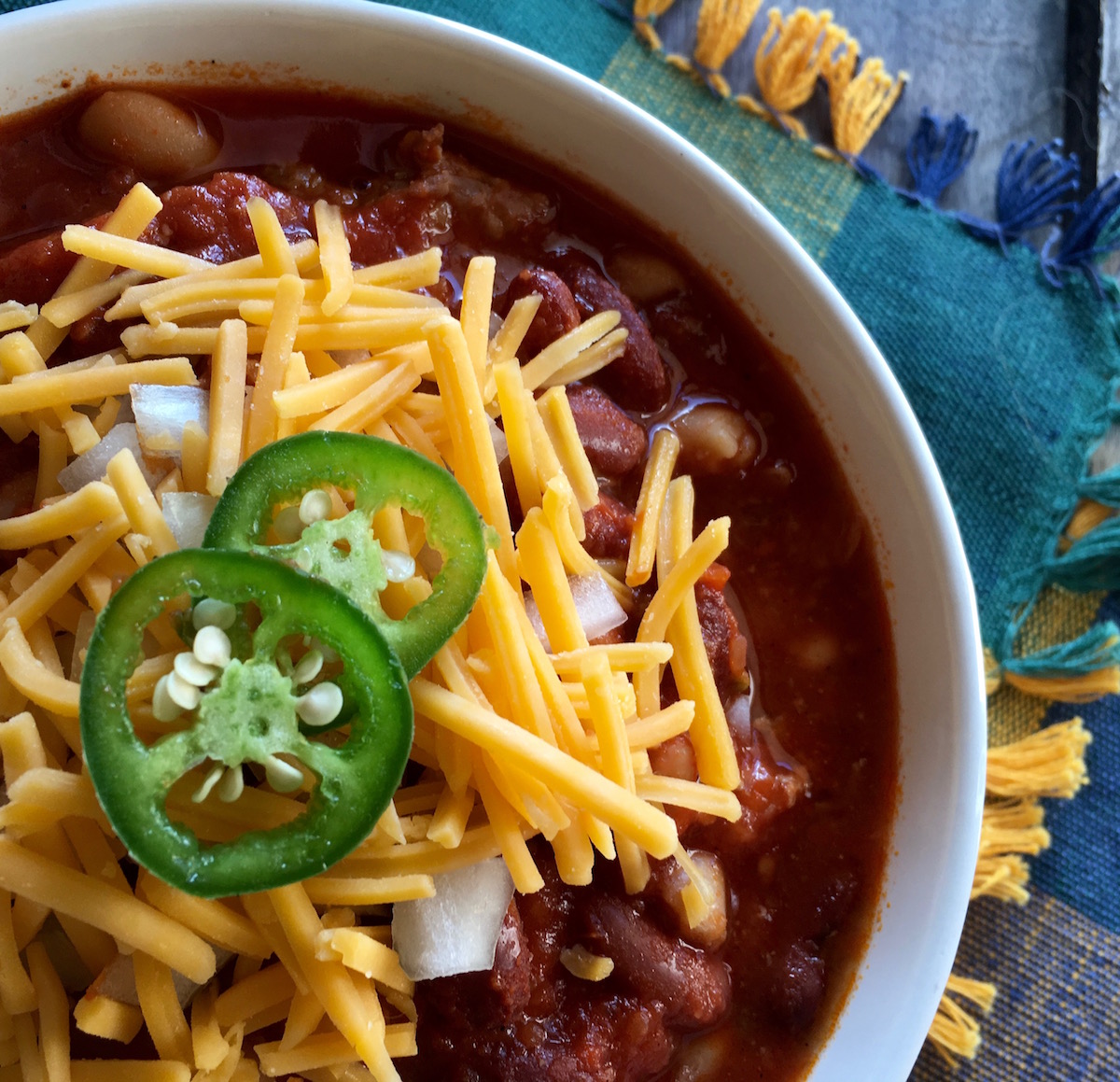 Ingredients:
1 pound spicy bulk pork sausage, crumbled
1 pound sweet bulk pork sausage, crumbled
½ c. chicken or vegetable stock, plus additional, if needed (gluten free, check labels)
4 cloves garlic, finely chopped
1 medium white onion, finely chopped
2 stalks celery, finely chopped
2 carrots, peeled and chopped into small pieces
2 15-oz. cans white beans, drained and rinsed
2 15.5-oz. cans red kidney beans, drained and rinsed
2 28-oz. cans tomato puree
1 6-oz. can tomato paste
1 28-oz. can petite-cut tomatoes, undrained
3 T. chili powder (gluten free, check labels)
1 T. ground cumin
2 t. oregano, dried
1 t. cayenne pepper
1 c. black coffee (or water), if needed
Salt, to taste
Garnish: (optional)
8 oz. shredded cheddar cheese
¾ c. chopped red onion
2 fresh jalapeno peppers, sliced
Directions:
In a large skillet, brown pork sausage over medium heat until no longer pink. Remove from heat and drain excess fat from pan. Transfer browned sausage to slow cooker.
Return skillet to burner over medium-high heat. Deglaze pan with chicken or vegetable stock, scraping up any browned bits from bottom of pan with a spatula.
Add olive oil, garlic, and onion to pan and cook, stirring frequently, about 3-4 minutes or until softened. Add celery and carrot and continue cooking another 2-3 minutes. Remove from heat and pour skillet contents into slow cooker.
Add white beans, red beans, tomato puree, tomato paste, petite-cut tomatoes, chili powder, cumin, oregano, and cayenne pepper to slow cooker. Stir to combine all ingredients thoroughly. If desired, add water or black coffee to thin mixture before cooking.
Cook on high for 4 hours, or low for 8 hours. When finished, stir and add salt to taste. Adjust other seasonings, as desired.
Spoon into bowls and top with shredded cheese, chopped onions and/or sliced jalapeno peppers. Serve immediately. Freeze or refrigerate leftovers within 2 hours.
Enjoy!
Kathy
If you click on any of the links associated with this blog we will receive a small commission!! Thank you for your continuous support!!!
To brown the meat for this dish I used my Le Creuset Skillet. I love my Le Creuset dishes and recommend them to all my friends and family. I first was turned on the the Le Creuset brand from my mom. When I moved out of her house she gave my a Le Creuset Dutch Oven pot and since then I have been a huge fan!! They are a little on the expensive side but completely worth the investment because they will last a life time! Click on the picture or link and it will pop you over to where you can get one for your kitchen!!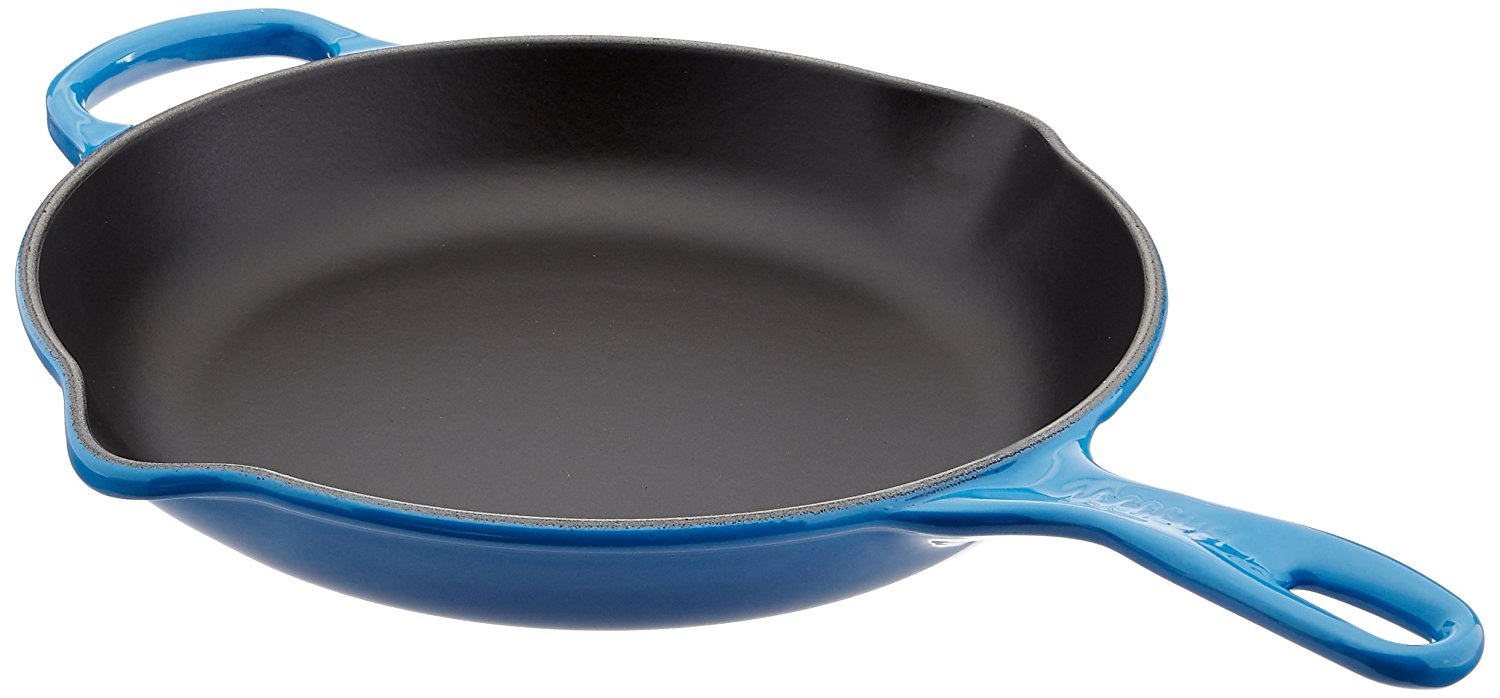 Nothing is better than coming home and having your dinner ready to eat! My husband loves chili! Its something that his dad used to make for him as a kid so its kinda a comfort food for him. I took his recipe and spiced it up!! For this recipe I used my 6 Quart Crock Pot Slow Cooker. It cooked this recipe to perfection and my husband loved it, hopefully you will too. This slow cooker can do a lot more than slow cooking from steaming veggies to baking it really is quite versatile and I can't wait to try more recipes out with it! To check this slow cooker out for yourself just click on the link and it will zip you over! Happy Slow Cooking!!