Instant Pot Gluten Free Steel Cut Oats Breakfast Bowls
Here is a healthy and delicious gluten free breakfast idea that looks as great as it tastes! The nice thing about these Instant Pot steel cut oats is you can pretty much set it and forget it while it cooks.
Tip: To save time in the morning, prepare the yogurt mixture the night before and use blueberries and raspberries to reduce prep time.
Prep time: 10 minutes
Cook time: 25 minutes + time to come to pressure
Serves: 4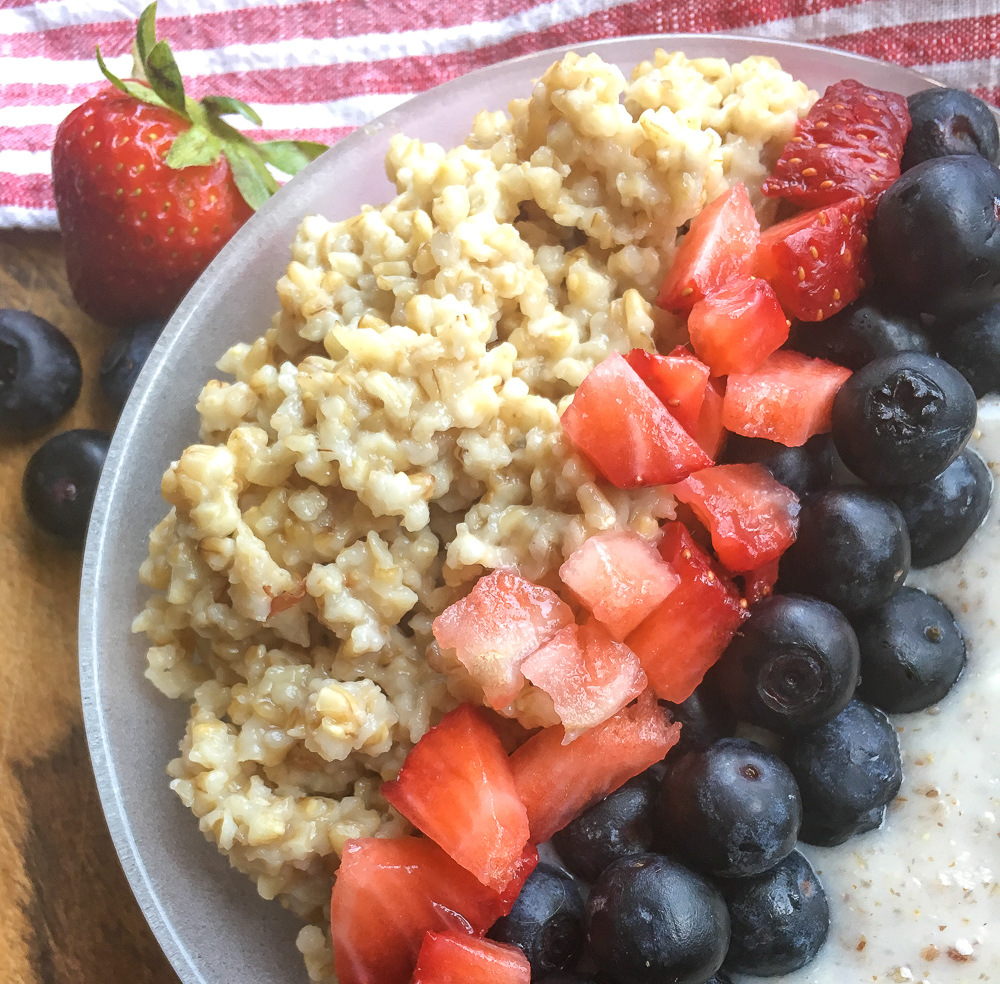 Ingredients:
Non-stick cooking spray
1 c. steel cut oats (gluten free)
3¼ c. water
2 c. Greek or coconut yogurt
1½ T. chia seeds
1 T. real maple syrup, plus additional for serving
1 c. fresh strawberries, hulled and cut into chunks
1 c. fresh blueberries, rinsed and patted dry
Directions:
Spray the Instant Pot cooking container with non-stick cooking spray.
Add steel cut oats and water and stir to combine. Cover with lid and lock into position, then flip the pressure valve to the "Sealing" position.
Press the "Manual" button and select the high heat setting. Set cook time to 10 minutes. After a brief pause, the Instant Pot will automatically start building pressure.
While the oats cook, combine yogurt, chia seeds, and maple syrup in a small bowl and stir to combine. Set aside.
When cook time is complete, turn off the Instant Pot to prevent scorching. Allow pressure to release naturally for 15 minutes, and then do a quick release for any remaining pressure.
Carefully remove lid and stir the contents to combine. Transfer the cooked oats to individual serving bowls. Heap the oats a little higher on one side of the bowl and spoon the yogurt mixture onto the other half.
Arrange the strawberries and blueberries between the two halves for a nice presentation. Serve immediately with additional maple syrup on the side, if desired.
Enjoy!
Kathy
The Instant Pot is a easy kitchen appliance to get those quick and easy week night meals done in a snap. When I meal plan for the week I try to pick quick and easy dishes so that I don't have to spend all evening in the kitchen. One of my favorite things was the slow cooker because you pop in a roast set it and go. Sometimes you plan out this meal and then all of a sudden your running late in the morning and now you don't have time to set it all up or prep your veggies and so forth. The Instant Pot was a huge help in that. I would get home brown all the sides of the roast, set it and within no time I had the smell of roast wafting through my kitchen. I hate to say it but I think the Instant Pot is replacing my slow cooker. Click on the link and snag one for yourself, you too will be sad you didn't pick one up sooner!