Grab a box of cinnamon almond crackers to make these adorable mini cheesecakes.
Mini Raspberry Cheesecakes
Ingredients:
For the Crust:
1 (4.25oz.) box of Blue Diamond Honey Cinnamon Nut-Thins
1/3 cup butter, melted
2 Tbsp. sugar
1/2 tsp. cinnamon
For the Filling:
3 (8oz.) packages cream cheese, softened
2/3 cup sugar
1 tsp. almond extract
3 eggs
20 fresh raspberries
1/4 cup seedless raspberry jam or preserves
Directions:
Must chill for 1 to 2 hours.
Preheat the oven to 350 degrees.
Spray 4 mini spring form pans ( 4 1/2″ size available from Wilton) and set aside.
In the bowl of a food processor, pulse together the nut thins, butter, sugar and cinnamon into very fine crumbs. Divided equally between the four spring form pans. Use a piece of plastic wrap and press the crumbs down firmly on the bottom and half way up the sides of the pans. Set aside.
In a large bowl, add the cream cheese, sugar and almond extract. Beat with an electric mixer until smooth and creamy. Add the eggs, one at a time, beating well after each addition. Divide equally between the four pans.
Use one tablespoon of preserves per pan and swirl in the cream cheese mixture. Press 5 fresh raspberries into each of the cheesecakes.
Bake for 30 minutes or until the centers just barely jiggle when tapped.  Remove from the oven and place on a wire rack to cool for 30 minutes. Place in the refrigerator and chill for at least 1 to 2 hours. Divide each cheesecake in half and top with whipped cream if desired.
Makes 8 servings
Note: You can also place these in a muffin tin. Divide the ingredients by 12 instead of 4 when assembling. Bake for 20  minutes. You can use cupcake papers if desired instead of using non-stick cooking spray. It will be easier to pop them out with the papers.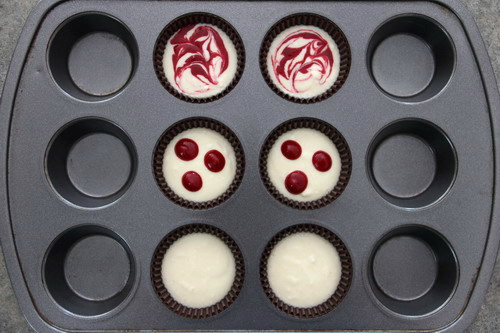 Have fun with other berry flavors if you want. Blueberry or strawberry would be just as tasty.
Kathy
Thanks for stopping by!
If you click on any of the links on this blog or page I will receive a small stipend.