Gluten Free Thick-Cut Boneless Pork Chops with Garlic Broccoli
This tasty gluten free recipe works best on a single sheet pan because the juice and seasonings from the pork chops adds a lot of incredible flavor to the simply prepared roasted garlic broccoli. If necessary, use a larger three-quarter size sheet pan to allow enough room for the broccoli to be spread out in a single layer without overcrowding.
Prep time: 10 minutes
Cook time: 25-30 minutes
Serves: 6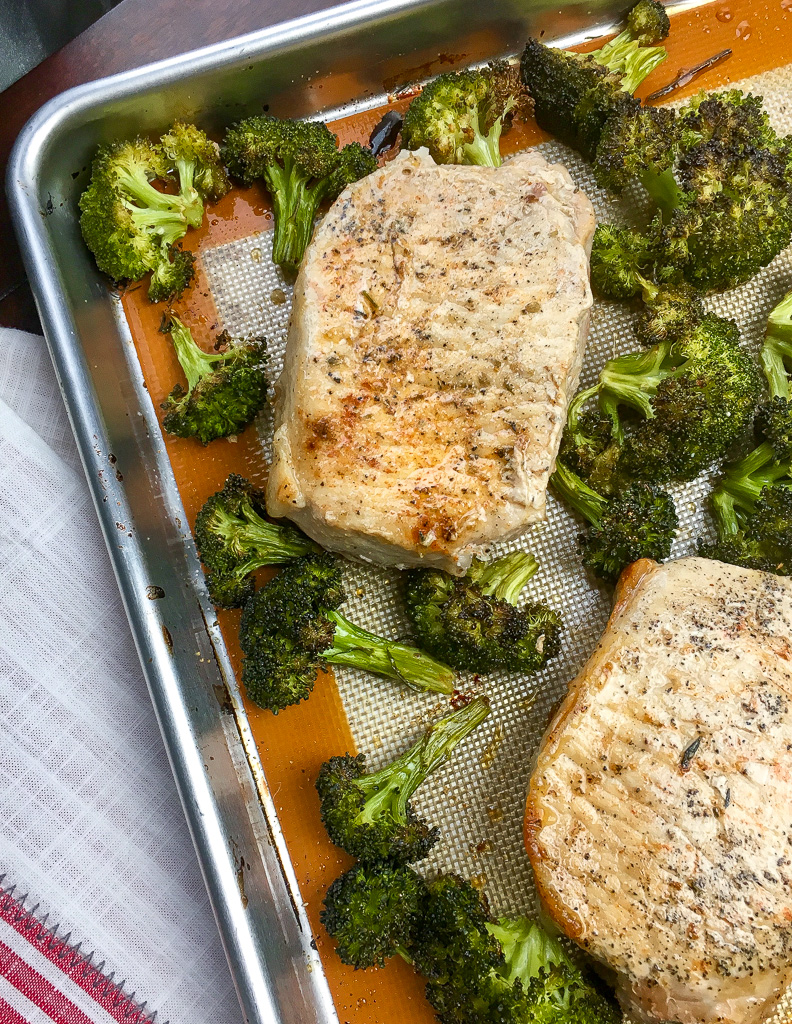 Ingredients:
6 thick-cut boneless pork chops
¼ c. extra virgin olive oil, divided
Sea salt and black pepper, to taste
1 t. smoked paprika
1 t. onion powder
1 t. garlic powder
1 T. Italian seasoning, divided (gluten free, check labels)
4 c. fresh broccoli florets
3-4 cloves fresh garlic, finely minced
Directions:
Preheat oven to 400°F and line a large, rimmed baking sheet with parchment paper or a Silpat® baking mat.
Place pork chops on the prepared baking sheet and drizzle each chop with some olive oil (approximately 2 tablespoons for all 6 pork chops).
In a large mixing bowl, combine the smoked paprika, onion powder, garlic powder, and 1 teaspoon Italian seasoning. Rub the spice mixture on both sides of each pork chop and return to the prepared baking sheet. Season generously with salt and black pepper, to taste.
Add the fresh broccoli florets to the same mixing bowl and drizzle with remaining olive oil. Add remaining Italian seasoning and minced garlic to the bowl and toss to combine. Season with salt and black pepper, to taste.
Arrange seasoned broccoli on baking sheet around the pork chops, spreading into a single layer. Place the baking sheet into the oven and roast for 23-28 minutes, turning the pork chops and stirring the broccoli once, or until the pork is completely cooked through* and the broccoli is nicely browned.
Remove sheet pan from oven and transfer pork chops and broccoli to a serving platter. Cover loosely and allow pork chops to rest for 5-10 minutes before serving.
Enjoy!
Kathy
If you click on any of the links on this blog we will receive a small stipend! Thank you for supporting me and my recipe addiction!!
*Note: Always cook meat to temperature, not by time. Actual cooking time will vary based on a number of factors, including internal starting temperature, individual oven variations, size and thickness of the meat, what else is in the oven while cooking, etc…
The minimum safe cooking temperature for fresh pork is 145°F
High quality baking sheets really do make a huge difference when it comes to cooking and baking! I have the USA baking pans and they have been the best investment I have made so far. I use my baking sheets all the time and have had them for years. The durability and construction of these pans really make them worth every penny! One of the best things about these pans is they don't warp! There is nothing like popping something in the oven and all of a sudden you hear a loud popping noise, and your goodies pop right off the pan! Click on the link to try these amazing pans for yourself!!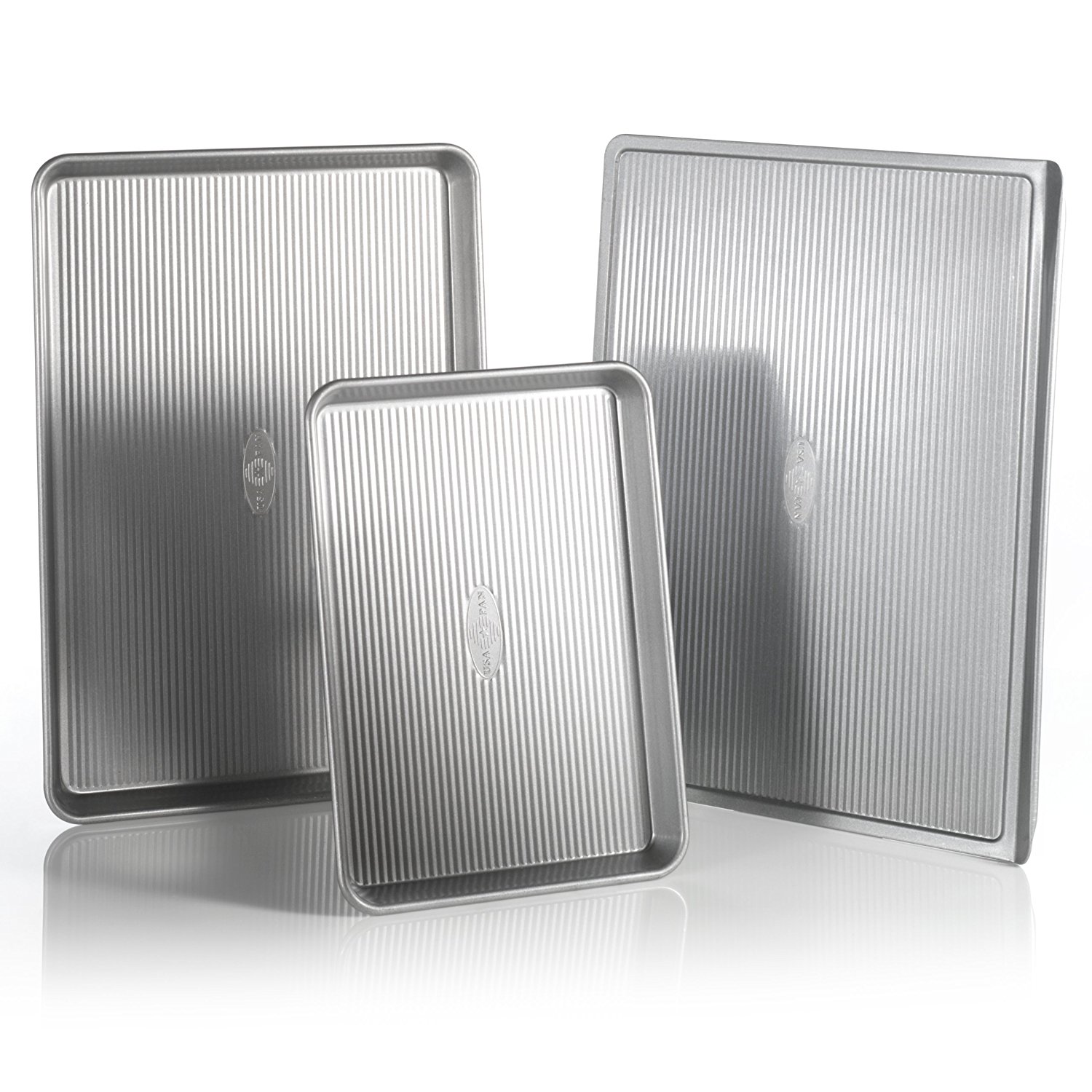 To preserve the longevity of your baking sheets use a Silpat mat! They are made of fiberglass mesh and high grade silicone and make clean up a breeze!  I started using Silpat mats a while ago to help reduce the amount of waste in my kitchen. With all the cooking and baking I do I felt kinda silly not buying these earlier! Wow what a difference they are reusable and super easy to clean up! I made a fruit galette on it and holy cow it turned out fantastic, baked to perfection!! Click on the link or picture and it will pop you over to where you can get one!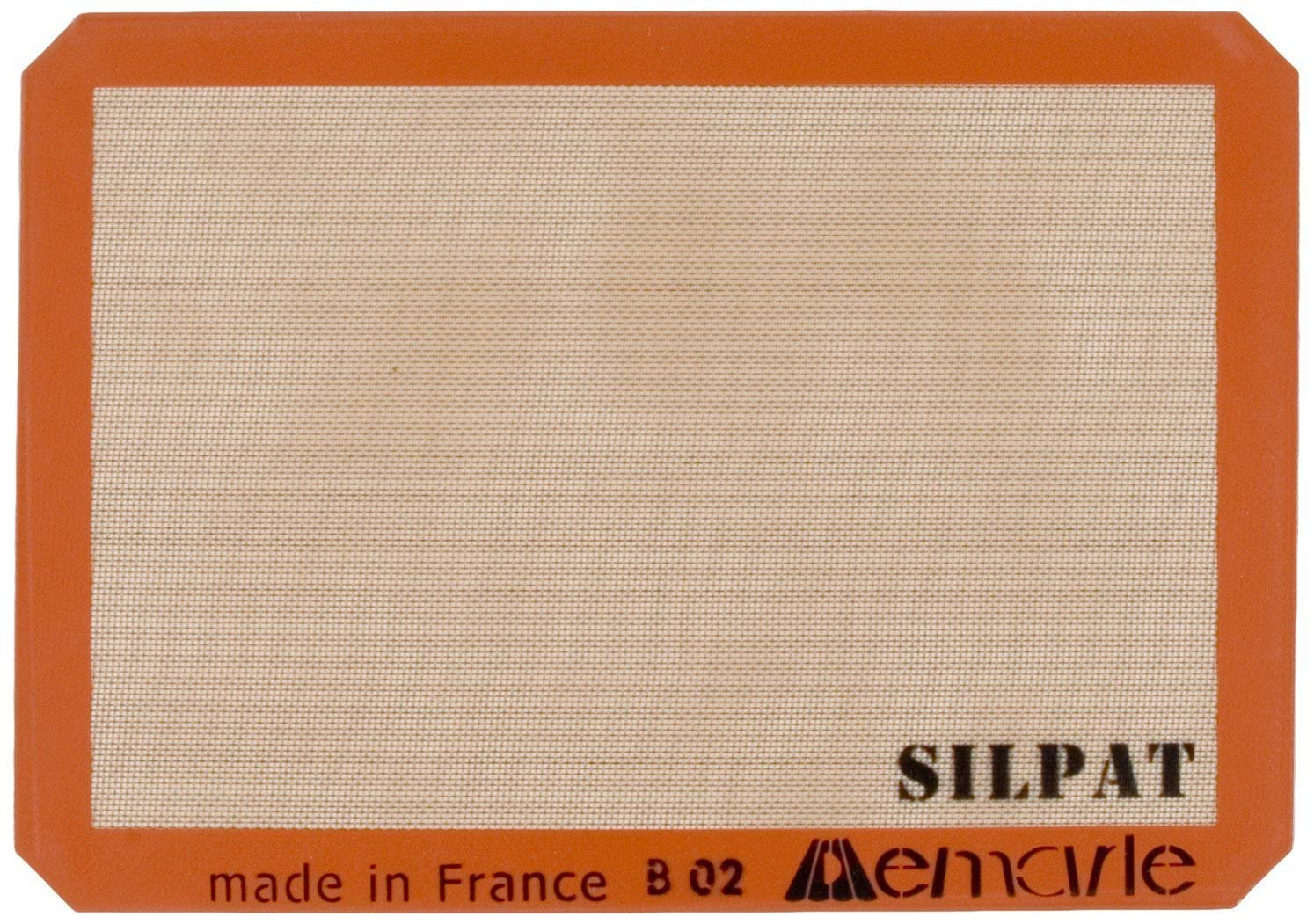 When it comes to cooking pork or chicken you never want to over cook them just because you are afraid of serving under cooked meat. To make sure you are serving the perfect pork chop use a meat thermometer! The one I have is waterproof and has a long probe so you can use it while grilling outside! Click on the link to snag on for your kitchen!