Gluten Free Apple and Feta-Stuffed Pork Tenderloin
This incredibly flavorful gluten free stuffed pork tenderloin makes an elegant main course for any holiday gathering. It pairs well with most traditional side dishes and tastes even better as leftovers the next day. Assuming there are any, of course!
The key to success with this recipe is to make sure you select pork tenderloin instead of a regular pork loin roast. Tenderloins are longer and narrower than loin roasts, and they normally weigh around 1 pound each. Therefore, a two-pound (or slightly larger) package will contain two individual pieces of meat. Butterfly both pieces by cutting halfway through the meat lengthwise, without cutting all the way through. Then, pound and stuff each piece as described below.
Prep time: 15 minutes
Cook time: 60-75 minutes, plus time to rest
Serves: 6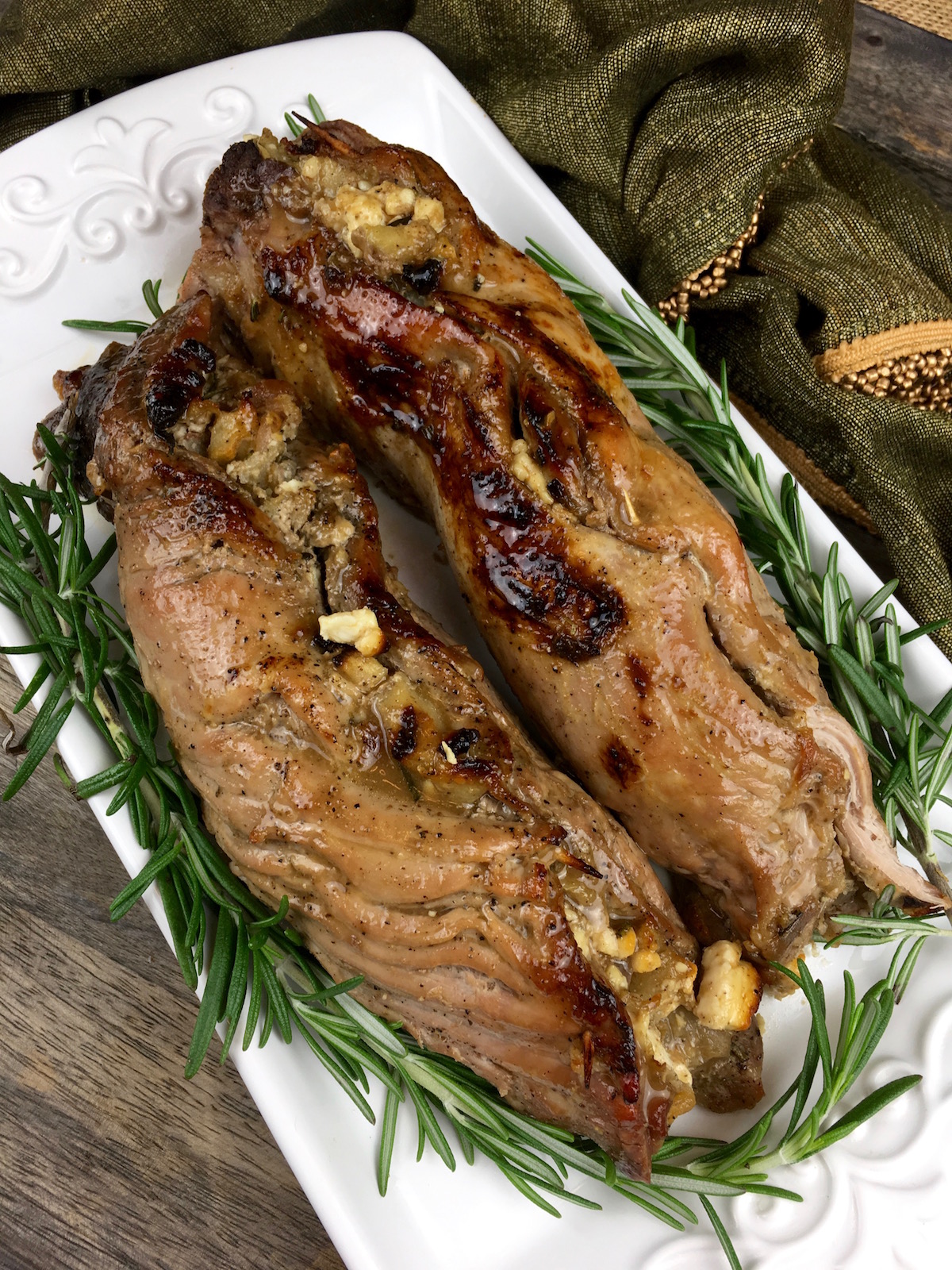 Ingredients:
2–2½ lbs. pork tenderloin, butterflied
½ c. unsweetened apple juice
½ c. Riesling, or other sweet white wine
Sea salt and black pepper, to taste
1 T. extra virgin olive oil
2 small Gala apples, peeled and diced
1 small red onion, thinly sliced
1 c. white mushrooms, sliced
2 T. fresh rosemary leaves, finely chopped
1 t. ground cinnamon
1 t. ground cloves
1/3 c. dates, chopped
6 oz. Feta cheese, crumbled
Will also need:
Kitchen string or toothpicks
Tip:
Total cooking time will vary based on a number of factors, including individual oven temperatures, thickness of the roasts, and the starting internal temperature of the meat. Check temperature after 50 minutes and adjust final cooking time accordingly.
Directions:
Let pork tenderloin rest at room temperature for at least 30 minutes, but no more than 2 hours, before cooking.
Preheat oven to 425°F. Combine apple juice and white wine in a small bowl and season with salt and black pepper, to taste. Set aside.
Place a sheet of plastic wrap on a clean, dry work surface. Add the butterflied tenderloins on top of the plastic and cover with a second sheet of plastic wrap. Pound the meat with a meat mallet or rolling pin until it is approximately 1/3" thick throughout. Season lightly with salt and black pepper.
Heat olive oil in a large skillet over medium heat. Add chopped apples, red onion, and mushrooms. Cook, stirring occasionally, until the apples are soft and mushrooms and onion are browned, approximately 8-10 minutes. Season with salt and black pepper, to taste.
Add rosemary, cinnamon, and cloves to the skillet and cook for another minute or two, or until the spices become fragrant. Remove from heat and stir in the chopped dates and crumbled Feta.
Spread the stuffing mixture onto the prepared pork tenderloins and roll up tightly. Secure the roasts with kitchen string or toothpicks.
Carefully transfer the tenderloins to a large roasting pan. Using a pastry brush, coat the outside of each roast with the apple cider/wine mixture, then pour half of the remaining liquid into the pan. Sprinkle roasts lightly with salt and black pepper, if desired, before placing the pan into the pre-heated oven.
Baste the pork with the remaining apple cider mixture every 10-15 minutes while it cooks. Check for doneness after 50 minutes and continue cooking until an instant read thermometer inserted into the center of the pork reads just below 145°F. (Temperature will increase while the meat rests).
Remove from oven and cover pan loosely with aluminum foil. Let rest for 10-15 minutes before removing the kitchen string or toothpicks. Slice and serve immediately with a drizzle of pan juices.
Enjoy!
Kathy
If you click on any of the links associated with this post we will receive a small commission! Thank you for you continuous support!
For this recipe I used my All-Clad skillet. I love my All-Clad products and use them several times weekly! The 12 inch skillet is nonstick for easy cleanup and dishwasher safe. This pan has a flat bottom and flared sides that make it easy to toss food, if you dare. This pan conducts heat well and provides consistent even cooking. Click on the link to try them out for yourself!!

For the Rotisserie Pan, I used the All-Clad Large Roasting Pan with rack. This Rotisserie pan is large enough to fit a 20 lb turkey with tall straight sides to catch all juices and prevent spills. The handles are big enough to get a good grip on even while wearing oven mitts, which comes in handy when trying to move a large turkey or roast in and out of the oven! The rack promotes even baking and leaves enough space to be able to catch the drippings and makes it easier to baste your meats. This is a high quality roasting pan and is a little on the expensive side but worth the money!! Click on the link to get one for your holiday cooking!!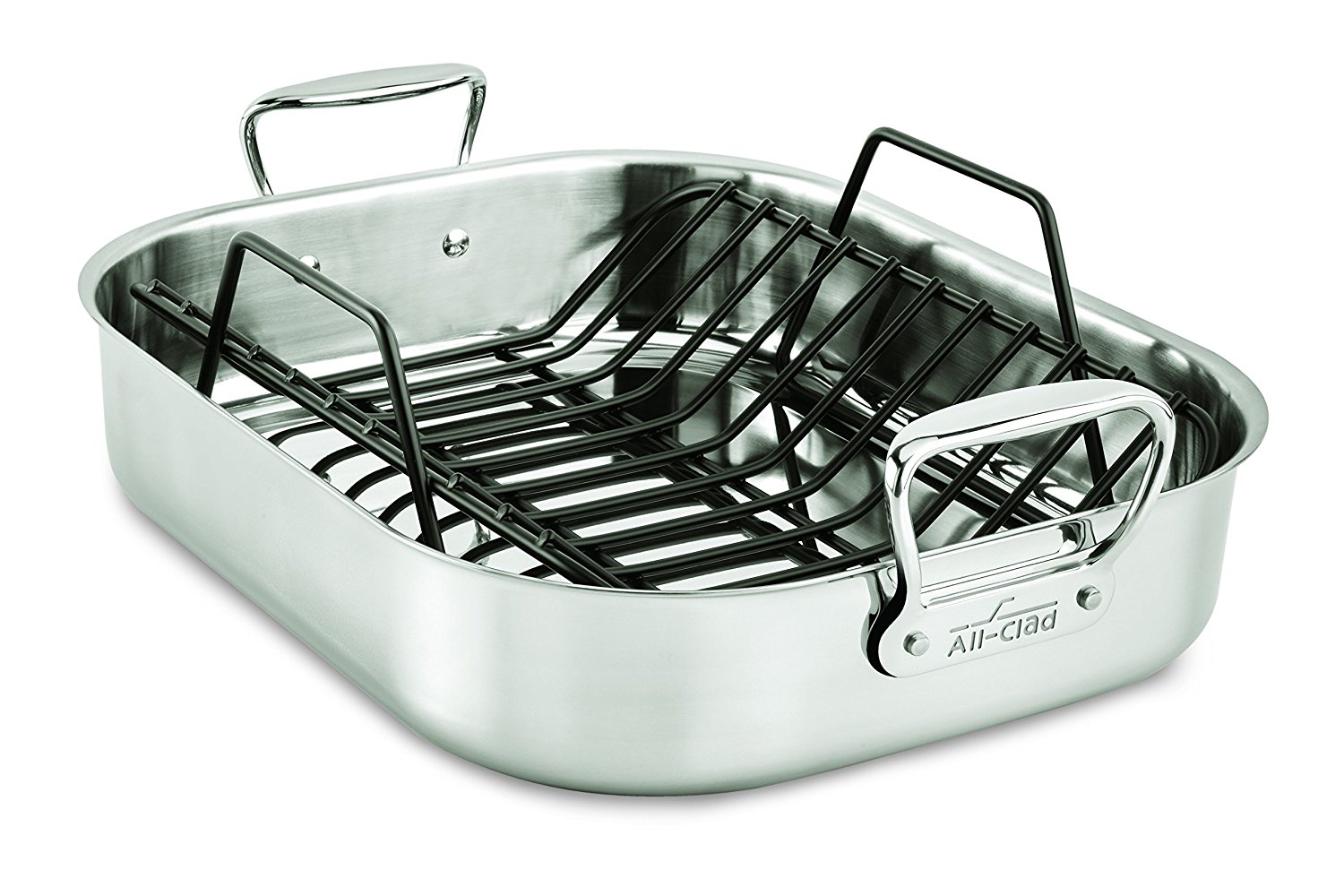 To ensure you are not serving under cooked meats use a meat thermometer. In just a few seconds it will read the internal temperature of the meat to verify that its cooked to perfection! The probe is made out of stainless steel and is a little over 4 inches long so you can use it when grilling outside as well. The meat thermometer is completely waterproof so you can wash it without worrying if you will ruin it. Click on the picture or link to check it out!!